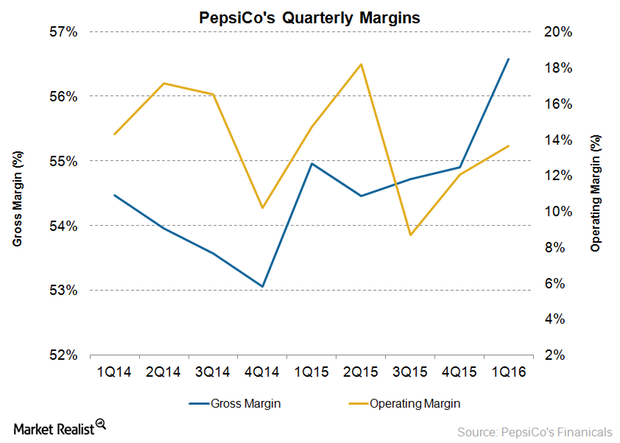 What Drove PepsiCo's Margin Expansion in 2Q16?
Focus on margin expansion
As mentioned in part one of this series, PepsiCo's (PEP) improved margins drove its adjusted earnings growth in 2Q16 ended June 11, 2016. Nonalcoholic beverage companies PepsiCo (PEP), Coca-Cola (KO), and Dr Pepper Snapple (DPS) are focusing on improving their margins to bring down the impact of volatile macro conditions and softness in soda volumes.
PepsiCo aims to deliver productivity savings of $1 billion in fiscal 2016. Coca-Cola is streamlining its operations and refranchising its bottling operations to enhance its margins. Dr Pepper Snapple is seeking margin improvement through its Rapid Continuous Improvement productivity program.
Article continues below advertisement
Article continues below advertisement
Margins in 2Q16
PepsiCo's gross margin expanded to 55.6% in 2Q16 from 54.5% in 2Q15. The company's operating margin increased to 19.3% in 2Q16 from 18.2% in 2Q15. The margin expansion in 2Q16 was driven by PepsiCo's revenue management strategies and productivity gains. However, these favorable factors were partially offset by a 50-basis-point increase in advertising and marketing expenses as a percentage of sales. The SPDR S&P 500 ETF (SPY) and the iShares Dow Jones US ETF (IYY) have 0.9% and 0.7% exposure, respectively, to PepsiCo.
Increasing productivity
PepsiCo continues to implement productivity initiatives to enhance its margins. The company is increasingly leveraging automation and advanced technology and deploying global best practices to increase its supply chain efficiency. In the company's 2Q16 conference call, CEO Indra Nooyi discussed some of PepsiCo's supply chain productivity initiatives. The company is implementing automated high-speed packaging lines across the organization. This could increase packaging line speeds by up to 50% while eliminating the bottleneck to total production lines and reducing labor costs.
Nooyi also spoke about capturing significant savings by using advanced logistics planning processes and tools. PepsiCo initially developed and deployed these tools in North America and then expanded to nine more countries. These processes and tools are generating 3% to 4% savings in transportation costs.
The company's Smart Spending program has been helpful in reducing key discretionary spending in areas such as travel, facilities, and consulting. PepsiCo plans to direct its productivity cost savings towards brand-building and innovation. The next part of this series will discuss the company's focus on innovation.