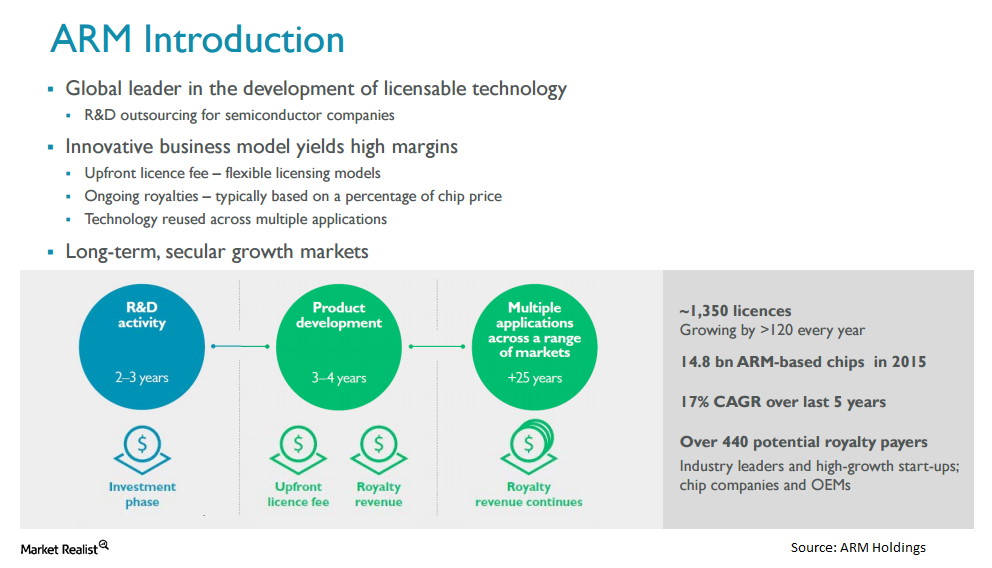 What Are the Conditions for the ARM Holdings-Softbank Merger?
Basics of the transaction
As we discussed previously in this series, ARM Holdings (ARMH) and Softbank are merging in a cash transaction. The companies are guiding for a mid-November close. In an unusual step, there aren't regulatory or antitrust conditions to the transaction. In the US, this isn't permitted. If a target is above a certain size, the buyer must file Hart-Scott-Rodino antitrust and get permission to merge. In this case, Softbank is a holding company. It doesn't appear to have any semiconductor businesses, so there isn't an overlap.
Article continues below advertisement
Article continues below advertisement
Merger conditions 
ARM Holdings shareholder vote (75% condition)
all conditions satisfied by 11/17/16
court sanction of the scheme
release of the scheme document
no antitrust or regulatory conditions
Non-solicitation agreement
The press release doesn't mention anything about non-solicitation or breakup fees. These issues might be discussed more when the scheme document is released. The takeover rules in the US and the United Kingdom are different in many ways. The scheme document should lay out the details of any agreements. Note that the main insiders at ARM Holdings have entered into an irrevocable undertakings agreement where they pledge to vote their shares in favor of the merger.
Article continues below advertisement
Merger arbitrage resources