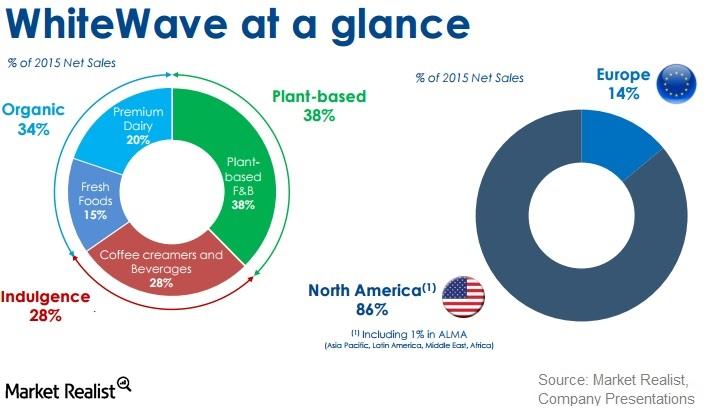 How Can WhiteWave Foods Add to Danone's Business?
WhiteWave's impressive performance
WhiteWave Foods (WWAV) currently generates around 80%–85% of its total revenue and operating profit from North America alone. Danone (DANOY), on the other hand, has limited exposure to North America.
Acquiring WhiteWave Foods will increase Danone's North American exposure from 12% to 22% of its total portfolio.
WhiteWave has generated significant growth in revenue since it went public in 2012. It has grown its sales at a CAGR (compound annual growth rate) of 19% as of 2015. In 2015, it generated $3.9 billion in total revenue and $375 million in operating profit, with $3.3 billion in revenue and $359 million in operating profit coming from North America alone. Danone generated 22.4 billion euros, or $24.8 billion, in total revenue in 2015.
WhiteWave's upcoming 2Q16 results will be released next month. Analysts expect a 13% rise in its revenue and a 16% rise in its earnings for the quarter.
Article continues below advertisement
Brand strength
WhiteWave Foods not only is a profitable growth company but also holds a portfolio of leading brands. Its key leading brands include Silk, Vega, Alpro, So Delicious, Provamel, Wallaby Organic, International Delight, Horizon Organic, and Earthbound Farm.
WWAV has a portfolio of high-growth, on-trend food and beverage categories that focus mainly on premium organic dairy, non-GMO (genetically modified organisms), plant-based alternatives to milk and yogurt, coffee creamers, and fresh foods.
The deal between Danone and WhiteWave will create a global company that will be strongly associated with changing consumer preferences toward healthier eating and drinking options. Data from Euromonitor states that the deal will push Danone into the ranks of the top 15 US food and beverage companies.