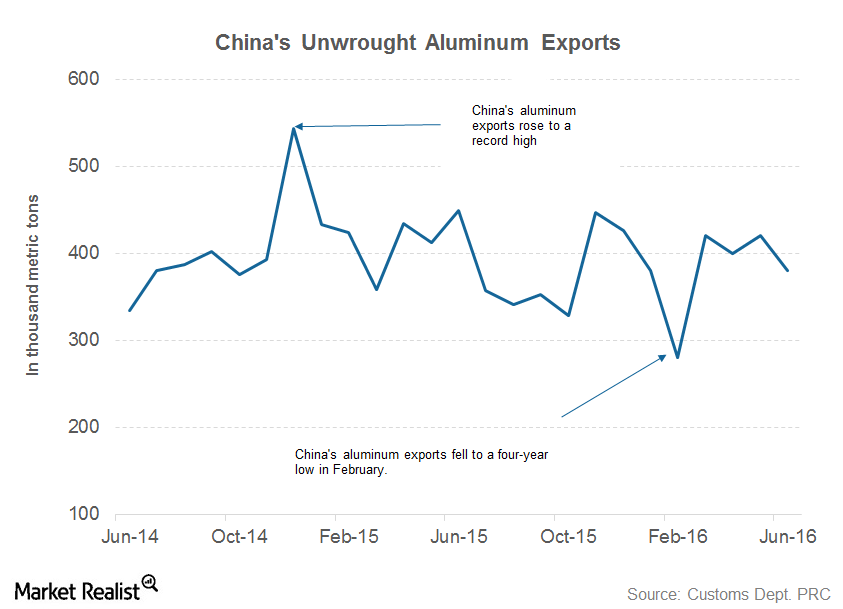 Can Higher Commodity Prices Boost Alcoa's 3Q16 Earnings?
3Q16 earnings
Alcoa's (AA) earnings are sensitive to commodity prices (GCC). The company expects its fiscal 2016 net income to rise by $160 million for every $100 per metric ton rise in aluminum prices. Similarly, its net income is expected to decline by $160 million for every $100 per ton fall in aluminum prices. Similarly, Alcoa's annual net income in fiscal 2016 is expected to rise or fall by $20 million for every $10 per metric ton increase or decrease in alumina prices.
Other aluminum producers including Century Aluminum (CENX), Rio Tinto (RIO), and Norsk Hydro (NHYDY) also have varying sensitivities to commodity prices.
Article continues below advertisement
Article continues below advertisement
3Q16 guidance
According to Alcoa, in the upstream business, the Alumina segment's 3Q16 ATOI (after-tax operating income) is expected to increase by $5 million over 2Q16, whereas the Primary Metals segment's ATOI is expected to be flat.
This assumption excludes any impact from metal prices (DBB) and currency movements. That said, aluminum prices have been firm so far in July, though we saw a small correction in alumina prices in June.
Chinese exports have fallen
The graph above shows the trend in China's unwrought aluminum exports. Chinese aluminum exports fell by more than 9% YoY (year-over-year) in the first six months of 2016, and fewer Chinese aluminum exports have been supporting aluminum prices in 2016. Lower Chinese aluminum exports signal strong aluminum demand in China, coupled with some supply-side discipline from Chinese smelters. Notably, in its 2Q16 earnings conference call, Alcoa maintained a 6.5% YoY aluminum demand growth for China.
If commodity prices stay at the current levels, we could see Alcoa's upstream earnings rise sequentially in 3Q16. But remember, metal prices tend to be volatile.
Now let's see how Alcoa's downstream business fared in 2Q16.