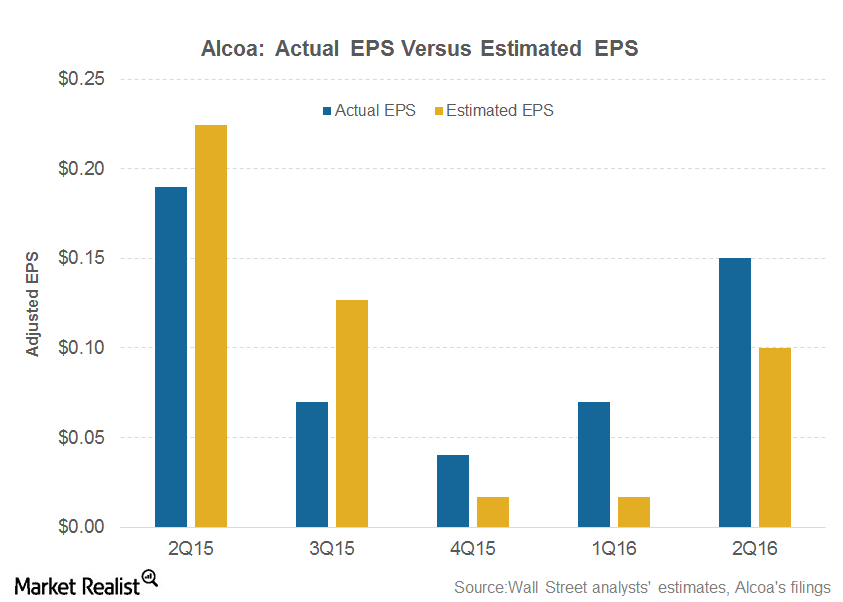 Alcoa's 2Q16 Earnings: Everything You Need to Know
Alcoa's 2Q16 earnings
Alcoa (AA) reported its 2Q16 earnings yesterday after the market closed. It reported EPS (earnings per share) of $0.15 after adjusting for special items. In contrast, Alcoa had reported an adjusted EPS of $0.07 in 1Q16 and $0.19 in 2Q16. Though Alcoa's 2Q16 earnings have fallen yearly, the company managed to post better earnings quarterly.
Article continues below advertisement
Article continues below advertisement
Commodity prices
The year-over-year earnings decline was expected, as commodity (GCC) prices have fallen steeply over the last year. Lower aluminum prices will likely hurt the earnings of other aluminum producers, like Rio Tinto (RIO), Century Aluminum (CENX), and Norsk Hydro (NHYDY). However, aluminum producers could report higher sequential earnings since commodity prices strengthened in 2Q16 as compared to 1Q16.
Alcoa's 2Q16 earnings came in higher than average analyst expectations. Alcoa has now delivered better-than-expected earnings for three consecutive quarters. Before that, Alcoa had missed consensus earnings estimates for two straight quarters. Markets reacted favorably to Alcoa's 2Q16 earnings, and the stock was trading 3.5% higher in after-hours trading on July 11. However, overall, 2016 has been a lackluster year for Alcoa investors. The stock is trading only marginally higher than last year's closing price.
Series overview
In this series, we'll explore Alcoa's 2Q16 earnings in detail and analyze the 3Q16 guidance provided by the company. We'll also cover the key points from the company's 2Q16 earnings conference call. Let's begin by looking at Alcoa's upstream performance in the next part of this series.