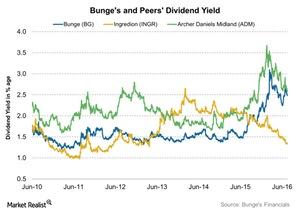 Bunge Consistently Returns Value to Shareholders
Recent dividend increase
On May 24, Bunge (BG) announced that its board of directors approved a 10.5% increase in the company's regular quarterly common share cash dividend from $0.38 to $0.42 per share. The increased dividend will be paid on September 2, 2016, to shareholders of record on August 19, 2016.
Along with this, Bunge also declared a quarterly cash dividend of $1.21875 per share on its 4.9% cumulative convertible perpetual preference shares. This will be paid on September 1, 2016, to shareholders of record on August 15, 2016. In 1Q16, Bunge returned $243 million in cash to shareholders through dividends and share repurchases.
Article continues below advertisement
Bunge paid $549 million in total to shareholders through dividends and share repurchases in 2015. The company paid $249 million as dividends in 2015. Bunge has a dividend yield of 2.7% as of July 18, 2016. The company's management raised the dividend at a CAGR (compound annual growth rate) of 10.3% over the last five years.
Share repurchases
The company purchased a total of $600 million in shares in 2014 and 2015. Bunge announced a $500 million share repurchase program in May 2015. In 2016, year-to-date, the company repurchased $200 million in shares. Out of this, $181 million was in the first quarter and $19 million was in the second quarter.
Peers' dividend yield
Bunge's peers in the agribusiness industry include Syngenta (SYT), Ingredion (INGR), and Archer Daniels Midland (ADM). As of July 18, their dividend yields are as follows:
Syngenta's dividend yield is 3%.
Ingredion's dividend yield is 1.4%.
Archer Daniels Midland's dividend yield is 2.7%.
The FlexShares Morningstar Global Upstream Natural Resources Index ETF (GUNR) invests 1.3% of its portfolio in Bunge. The PowerShares DWA Consumer Staples Momentum Portfolio (PSL) invests 3.8% of its holdings in Ingredion.