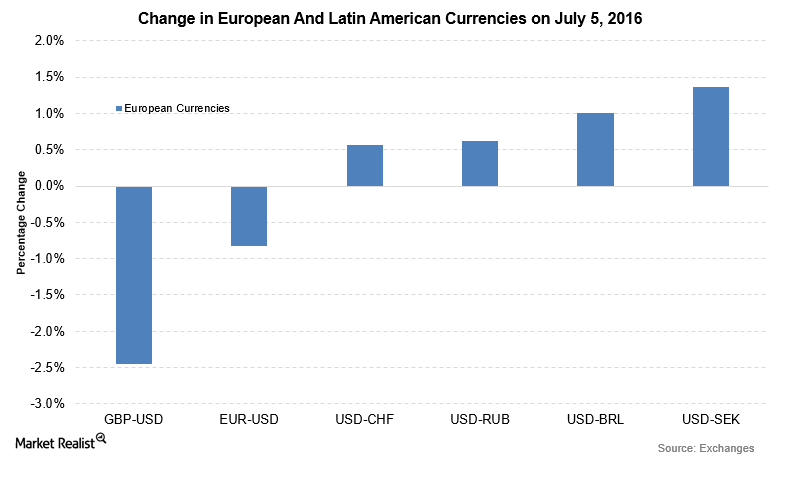 Why Did the Bank of England Relax Regulatory Requirements?
BOE lowered capital requirements for banks
The BOE (Bank of England) released the Financial Stability Report on July 5, 2016. It warned multiple times about the repercussions of a Brexit. It started taking actions to counter the imminent risk to promote financial stability. The major action taken by the BOE include reducing the counter cyclical capital buffer rate from 0.5% t0 0.1% with an immediate effect. The action is expected to reduce the capital buffers by close to 5.7 billion. This can free up a potential 150 billion pounds in terms of lending capacity for the banks towards UK households and businesses. The Financial Policy Committee welcomed the BOE's decision to continue to offer long-term weekly repo operations until September 2016.
Article continues below advertisement
Article continues below advertisement
Sharp fall in the pound
The start of the third quarter coincided with the return of the risk aversion as investors moved towards safer currencies like the US dollar. The US Dollar Index (UUP) rose by 0.54% on July 5. The rise in the US Dollar Index was also due to the sharp fall in the pound. The pound fell by 2.5% on July 5, after the BOE announced steps to increase lending in the market. The ProShares UltraShort Euro ETF (EUO) rose by 1.3%.
European markets mostly trade lower
Major European indexes (DBEF) (IEV) were trading lower on July 5. The German DAX and French CAC were trading 1.8% and 1.7% lower, respectively, after the lackluster purchasing managers' index release. The Deutsche X-trackers MSCI Europe Hedged Equity ETF (DBEU) fell by 1.8%. It followed a similar trajectory to the European markets.
The United Kingdom's (FKU) FTSE 100 was among the leaders in European markets. It rose by 0.35%. The rise was mainly due to investor sentiments towards the steps taken by the BOE.
Among other major indexes, the SPDR Euro STOXX 50 ETF (FEZ)—a Eurozone blue-chip stock index—fell by 1.7%.