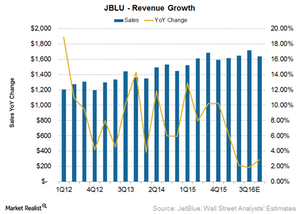 Are Analysts Expecting JetBlue Airways's Revenue to Grow in 2Q16?
Average sales growth
Analysts are estimating 2Q16 revenue of ~$1.7 billion for JetBlue Airways (JBLU), which is a year-over-year increase of 2.2%. For 3Q16 amd 4Q16, analysts are forecasting revenues of ~$1.7 billion and ~$1.6 billion, a growth of ~1.9% and ~2.9%, respectively.
Analysts are expecting JetBlue's revenue to increase by 3.2% in 2016 to ~$6.6 billion. This is then expected to increase to 7.8% growth in 2017 and then again decrease to 1.8% in 2018. These estimates are lower than the 11%, 9%, and 7% growth seen in 2012, 2013, and 2014, respectively. The estimates are also substantially lower than the 19% growth seen in 2011 and 15% growth seen in 2010.
JBLU derives 90% of its revenue from passenger revenue and 10% through ancillary services provided to passengers. In the past, JBLU has seen one of the highest revenue upswings among the seven major airlines. Its peers in that group are:
Article continues below advertisement
Slowing travel demand
Passenger travel demand had a great start in 2016, growing approximately 7% year-over-year (or YoY), the highest since 2012. However, the International Air Transport Association (or IATA) suspects that the industry might be at the end of the traffic boost phase provided by low oil prices.
This suggests travel demand may slow down, which would adversely affect airlines. For a complete analysis, please read Will Airline Industry Demand Rise for the Remainder of 2016?
Unit revenues
The decline in unit revenues is another major reason for the declining revenue growth. Unit revenue is the revenue earned by an airline for flying one passenger for one mile, also known as passenger revenue per available seat mile (or PRASM). JBLU's PRASM fell by 8% in 1Q16.
Outlook
Increasing competition and additional capacity growth by JetBlue as it plans to outpace its rivals' growth should pressure its yields and thus, its unit revenues.
The Guggenheim S&P MidCap 400 Pure Growth ETF (RFG) holds 0.84% of its portfolio in JBLU.