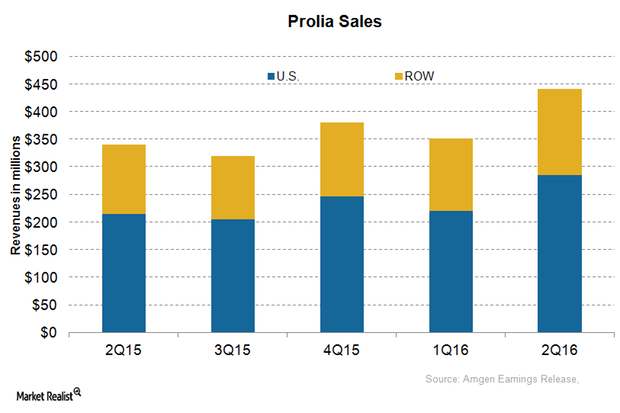 Amgen's Bone Health Drug Saw Strong Revenue Growth in 2Q16
Bone health drug
Amgen's (AMGN) bone health drugs Prolia and Xgeva earn a combined $3 billion in revenue annually. Prolia is a drug prescribed to treat osteoporosis in postmenopausal women. It currently accounts for more than 16% of the market share in the United States. To find out more about Prolia, please refer to Amgen: Exploring Opportunities in the Bone Segment.
Article continues below advertisement
Prolia's sales
Prolia's total sales rose by approximately 29.7% year-over-year (or YoY) and reached $441 million in 2Q16. The total number of units sold for Prolia also rose YoY by about 24% in 2Q16. This can mainly be attributed to the large number of new patients initiating Prolia therapy as well as older patients opting for repeat injections.
The drug reported strong revenue growth of about 33%, from $215 million in 2Q15 to $286 million in 2Q16, in the US market. In the rest of the world, Prolia's sales rose by approximately 24%, from $125 million in 2Q15 to $155 million in 2Q16.
Market opportunity
Prolia is expected to witness strong growth in future quarters, as there is significant unmet demand related to postmenopausal osteoporosis. In the United States, about 10 million women suffer from this condition. Approximately 4.5 million women can be considered to bear a high risk of fractures. However, 60% of these high-risk patients continue to be untreated.
Prolia aims to capture this underserved segment. The drug will enable Amgen to pose strong competition to other bone health players such as Novartis (NVS), Eli Lilly (LLY), and Merck & Co. (MRK).
If Prolia continues with its revenue momentum, it could boost Amgen's share price as well as the price of the PowerShares QQQ Trust, Series 1 ETF (QQQ). Amgen makes up about 2.4% of QQQ's total portfolio holdings.
In the next article, we'll analyze the performances of Amgen's growth products Xgeva, Nplate, and Sensibar in greater detail.