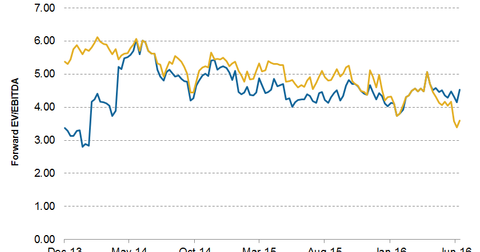 American Airlines' Valuation: What's Priced In?
By Ally Schmidt

Updated
Current valuation
On July 1, 2016, American Airlines (AAL) was valued at 4.53x its forward EV-to-EBITDA ratio (enterprise value to earnings before interest, tax, depreciation, and amortization). This was the same as AAL's average valuation of 4.53x post-merger in December 2013, and it was higher than the industry median valuation of 3.6x.
Article continues below advertisement
Peer comparison
On July 1, 2016, United Continental (UAL) was trading at a valuation of 3.2x, Delta Air Lines (DAL) was trading at 3.44x, Alaska Air Group (ALK) at 3.1x, Southwest Airlines (LUV) at 4.81x, JetBlue (JBLU) at 3.6x, Spirit Airlines (SAVE) at 6.9x, and Allegiant Travel (ALGT) at 6.2x.
The Market expects AAL's EBITDA to fall by 0.5% in the next four quarters. In the same period, UAL's EBITDA is expected to fall by 7%. DAL's EBITDA is expected to rise by 18%, ALK's by 10%, LUV's by 11%, JBLU's by 10%, SAVE's by 3%, and ALGT's by 4%.
Our analysis
AAL's higher-than-industry leverage, low utilization, and low yields seem to be somewhat responsible for its low valuation multiple compared to its peers. Its recent emergence from bankruptcy also makes it a riskier stock compared to other players in the industry.
In the short term, AAL's valuations will be impacted by its expected future debt reduction, capacity expansion, and future margin expansion, especially as analysts now expect airlines' margins to have peaked.
Investors should also keep an eye on the industry situation, as industry fundamentals also impact companies' valuation multiples. For example, a significant and unexpected rise in the price of fuel could be a major threat to airlines if they cannot pass it on to consumers. This could send valuations tumbling down.
On the other hand, if fuel falls further, margins could expand further and valuation multiples could rise.
American Airlines forms 1.8% of the PowerShares Dynamic Market ETF (PWC).