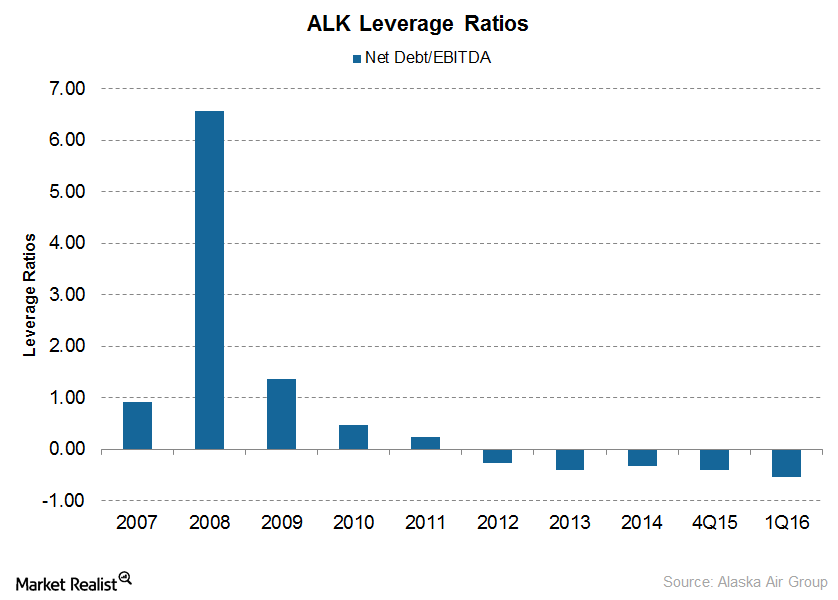 Alaska Air's Low Debt: Is It an Advantage?
Debt reduction
Alaska Air Group (ALK) has been trying to reduce its debt burden in order to strengthen its balance sheet in the long term. The airline has made consistent efforts to reduce debt and has paid down $1.2 billion in debt payments over the last five years.
As a result, ALK has been successful in lowering its net debt-to-EBITDA (earnings before interest, tax, depreciation, and amortization) ratio from about 2.19x in 2010 to -0.55x at the end of 1Q16.
Let's look now at the net debt-to-EBITDA ratios at the end of 1Q16 for the other airlines:
Alaska Air is one of the few US airlines to be positive on a net debt level. It thus enjoys an investment-grade rating. It also has a 36% cost advantage over legacy players.
Alaska Air has been able to maintain this position since it hasn't borrowed any money for the past seven or eight months. However, this may change in 2Q16 since ALK intends to borrow $2 billion to fund the Virgin America acquisition.
For more details on this merger, you can read Alaska Air Group-Virgin America Merger: Fifth-Largest US Airline and What Can We Expect from the Alaska Air–Virgin America Deal?
Article continues below advertisement
Strong cash flows
The reason Alaska Air has been able to achieve its goal is its strong profitability. ALK has been profitable for each of the last ten years. Cash flow from operations was ~$4.0 billion in the last five years, and free cash flow was $1.7 billion.
For the upcoming year, Alaska Air has set strong cash flow expectations. The airline expects to generate about $1.4 billion in cash flow from operations. It expects to generate about $600 million worth of free cash flow in the upcoming year. This will help it further reduce its debt.
Alaska Air forms 0.53% of the SPDR Russell 1000 Momentum ETF (ONEO).