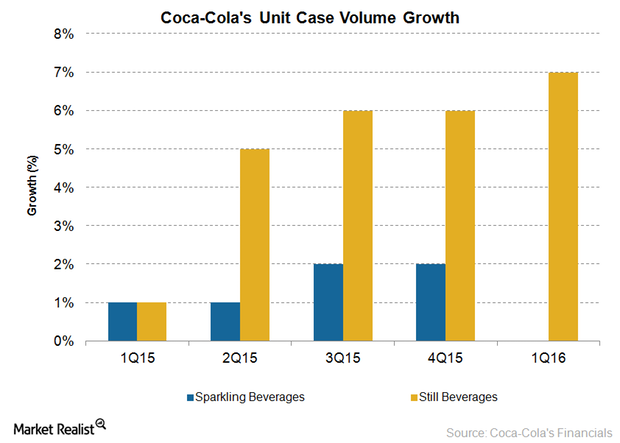 Why Coca-Cola Is Focusing on Still Beverages
Focus on still beverages
In the first part of this series, we discussed plans by The Coca-Cola Company (KO) and its bottler Coca-Cola FEMSA (KOF) to acquire AdeS soy-based beverage business from Unilever (UL). The acquisition of a strong soy-based beverage brand will enhance Coca-Cola's still, or non-carbonated, beverage portfolio.
Leading soda makers like Coca-Cola, PepsiCo (PEP), and Dr Pepper Snapple Group (DPS) are increasingly focusing on strengthening their still beverage portfolios. This move is in response to the growing consumer aversion to carbonated soft drinks. Consumers are looking for healthier beverage choices such as ready-to-drink tea and bottled water.
Article continues below advertisement
Recent performance of still beverages
As seen in the graph above, with the exception of 1Q15, Coca-Cola's still beverage volumes outperformed sparkling beverage volumes in 2015 and in 1Q16. In 2015, Coca-Cola's still beverage unit case volumes grew by 5%, compared to 1% growth in sparkling beverage volumes.
In 1Q16, Cola-Cola's still beverage volumes grew by an impressive 7%, while sparkling beverage volumes remained even when compared to 1Q15. Coca-Cola experienced strong volume growth across key still beverage categories, except for juice and juice drinks, which registered a small decline in 1Q16. Coca-Cola's popular still beverage brands include Minute Maid, Fuze Tea, Gold Peak, and Dasani. The Vanguard Dividend Appreciation ETF (VIG) has 3.9% exposure to Coca-Cola.
PepsiCo's North America Beverages segment experienced a 7% increase in non-carbonated beverage volumes and a 2% decline in carbonated soft drink volumes in 1Q16. In 1Q16, Dr Pepper Snapple Group's bottler case sales volumes increased by 2%, driven by a 2% increase in both carbonated soft drink volumes and non-carbonated beverage volumes.
Expansion of still beverage portfolio
Coca-Cola is expanding its still beverage portfolio internally as well as through strategic acquisitions. In January 2016, Coca-Cola announced the acquisition of a minority stake in Chi Limited, Nigeria's leading dairy, juice, and snacks company.
In August 2015, Coca-Cola purchased an ~30% stake in Suja Juice, a California-based manufacturer of organic juices that uses high-pressure processing technology to preserve nutrition and taste. In 2015, Coca-Cola expanded in plant-based protein drinks through the acquisition of the beverage business of China Green Culiangwang Beverages Holdings.
These acquisitions will help Coca-Cola in capturing the growing demand for still beverages and reduce its exposure to soda beverages.
For more trends in the nonalcoholic beverage industry, read Nonalcoholic Beverages: How Have US Consumers' Tastes Changed?