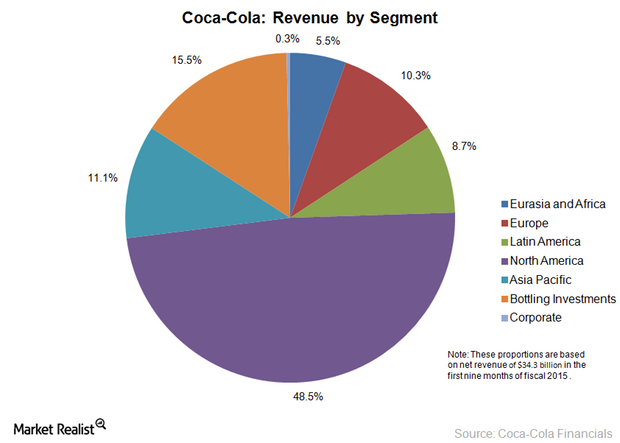 Coca-Cola Strengthened Presence in Africa with Stake in Chi
Minority stake in Chi
Beverage giant Coca-Cola (KO) has expanded its presence in Africa with the acquisition of a minority stake in Chi Limited, Nigeria's leading dairy, juice, and snacks company. On January 30, 2016, Coca-Cola announced a binding agreement with Tropical General Investments Group (TGI Group), Chi's holding company, to acquire an initial minority stake of 40% in Chi. Coca-Cola plans to increase its ownership to 100% by purchasing the remaining 60% stake over the next three years.
This acquisition reflects Coca-Cola's plan to expand beyond the developed markets where soda volumes are under intense pressure. It should also help Coca-Cola enhance its presence in the still beverages growth categories.
Article continues below advertisement
Article continues below advertisement
Africa: A key growth region
Coca-Cola (KO) sees significant growth opportunities in Africa. In the first nine months of fiscal 2015, Coca-Cola derived 5.5% of its $34.3 billion net revenue from the Eurasia and Africa segment. In 2014, Coca-Cola announced an increased investment in Africa of $17 billion over the 2010–2020 period. The region's growing population and rising income are expected to fuel the demand for these beverages.
At the end of 2014, Coca-Cola, SABMiller (SBMRY) (SAB.L), and Gutsche Family Investments agreed to combine the bottling operations of their nonalcoholic ready-to-drink beverage businesses in Southern and East Africa. The new bottling system, Coca-Cola Beverages Africa, plans to serve 12 high-growth countries to account for ~40% of all Coca-Cola beverage volumes in Africa. Coca-Cola makes up 0.8% of portfolio holdings of the iShares Russell 3000 ETF (IWV).
Rivals PepsiCo (PEP) and Monster Beverage (MNST) also sell their products in Africa. However, Dr Pepper Snapple (DPS) lacks a presence in the African continent. Dr Pepper Snapple sells its products in the US, Canada, and Mexico.
Strategic acquisition
Coca-Cola's (KO) stake in Nigeria's Chi is expected to facilitate its growth in Africa. Chi enjoys a leading position in the Nigerian value-added dairy and juice market. It owns the popular brands Hollandia and Chivita. This acquisition should also help both companies leverage their respective strengths in terms of innovation, efficiency, and route-to-market.
Value-added dairy and juices are key categories of the still beverages space, which is a key focus area for nonalcoholic beverage companies like Coca-Cola. We'll discuss this in the next part of this series.