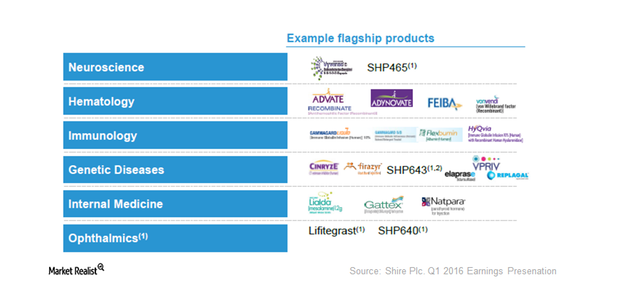 What Are Shire's Flagship Products?
By Jillian Dabney

Jun. 21 2016, Updated 3:23 p.m. ET
Neuroscience portfolio
Shire's (SHPG) portfolio spans across diversified areas such as neuroscience, hematology, immunology, genetic diseases, internal medicine, and ophthalmics.
Its neuroscience leadership is driven by Vyvanse while Adderall and Intuniv are the two other products in its portfolio. Vyvanse earned $509 million, ~31.3% of Shire's total product sales in 1Q16. During the first three months of 2016, Vyvanse prescriptions grew by 9.8% year-over-year. For details on Vyvanse, you can refer to How Vyvanse Could Fuel Shire's ADHD Portfolio Sales.
Article continues below advertisement
Immunology portfolio
The company's immunology portfolio includes Gammagard liquid, Flexbumin, and HyQvia. After the Baxalta acquisition, the portfolio was broadened to include immunoglobulin and biotherapeutics. For details on Baxalta's immunology portfolio, read Baxalta: How Is Its Immunology Portfolio Performing?
Article continues below advertisement
Genetic disease portfolio
The company's genetic disease portfolio includes drugs such as Cinryze, Firazyr, Elaprase, Vpriv, and Replagal. Companies such as BioMarin (BMRN), Alexion (ALXN), and Biogen (BIIB) operate in the rare genetic disease space. During 1Q16, Cinryze and Firazyr recorded revenues amounting $164.2 million and $128.3 million, respectively. The 1Q16 top line contributions of Elaprase, Replagal, and Vpriv stood at $123.6 million, $103.2 million, and $83.6 million, respectively.
Internal medicine
The company's internal medicine portfolio includes Lialda, Gattex, and Natpara as the leading drugs. Lialda revenues during 1Q16 were $168 million. Gattex and Natpara earned $51.7 million and $15.6 million, respectively, during 1Q16.
Ophthalmics
The company's ophthalmology portfolio includes two novel molecules, Lifitegrast and SHP640. The Lifitegrast Prescription Drug User Fee Act (or PDUFA) date is July 22, 2016, whereas SHP640 has entered into phase three. If you want to reduce the risk of the direct equity investment in Shire, you can opt for ETFs like the First Trust US IPO Index Fund (FPX), which holds 2.5% of its holdings in Shire.
In the next article, we'll look at Shire's late stage pipeline.