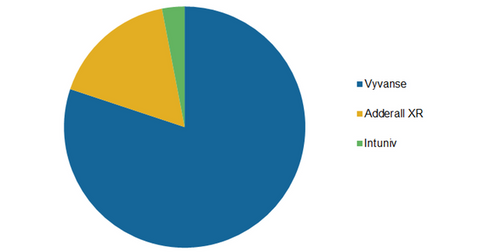 How Vyvanse Could Fuel Shire's ADHD Portfolio Sales
By Jillian Dabney

Updated
Shire's ADHD portfolio
More than 30% of Shire's (SHPG) total revenue for fiscal 2015 was from its ADHD (attention-deficit/hyperactivity disorder) portfolio. Major drugs in the portfolio include the following:
Vyvanse
Adderall XR
Intuniv
Vyvanse is Shire's leading ADHD drug, constituting ~80% of the company's ADHD portfolio. In fiscal 2015, Vyvanse earned $1.7 billion, whereas Adderall XR and Intuniv added $362 million and $65 million, respectively, to Shire's top line.
Sales for Adderall XR and Intuniv declined following generic competition in the United States. Adderall XR's generic version came into the US market in 2009, and the generic for Intuniv was launched in fiscal 2014.
Article continues below advertisement
Shire's neuroscience leadership with Vyvanse
Vyvanse is Shire's top-selling drug. It received FDA (U.S. Food and Drug Administration) approval for the indication of ADHD in 2007 in patients over six years of age.
Later, in January 2015, Vyvanse received FDA approval for moderate to severe binge eating disorder (or BED) in adults. The drug is the only FDA-approved BED therapy in the United States. It accounts for ~27% of Shire's total revenue.
Label expansion strategy for Vyvanse
Shire is following a label expansion strategy for Vyvanse so the drug can serve more patients. Pharmaceutical companies pursue this kind of strategy to increase sales volume. Alexion Pharmaceuticals (ALXN) followed this type of label expansion for Soliris. Regeneron Pharmaceuticals (REGN) is trying to expand the target population for its key drug Eylea. Vertex Pharmaceuticals (VRTX) adopted a label expansion strategy for its key drug Kalydeco.
It's risky to invest directly in any equity. So risk-averse investors can choose to invest in ETFs. One such option is the iShares Nasdaq Biotechnology ETF (IBB). Shire accounts for 1.6% of IBB's portfolio.
In the next part of the series, we'll look in more detail at Vyvanse and what's happening with the applications for a generic version of Vyvanse.