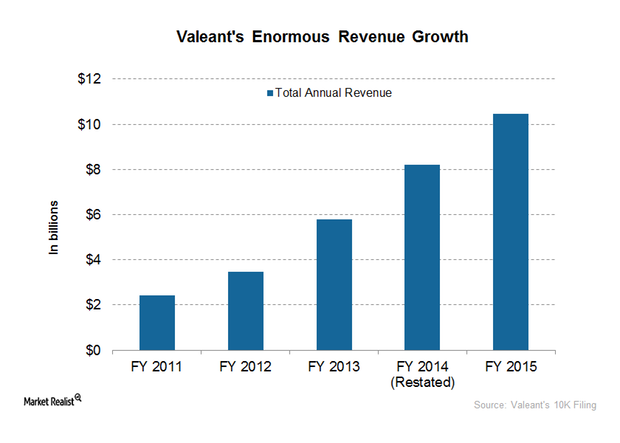 Valeant: The Rise and Fall of a Giant Specialty Pharmaceutical
Valeant's aggressive revenue growth
As we saw in the previous part of this series, Valeant Pharmaceuticals International (VRX) has grown quite aggressively with the support of high leverage.
Two major deals—Salix and Bausch + Lomb—together cost Valeant ~$23.2 billion. Salix was valued at $14.5 billion, including net debt. Valeant purchased Bausch + Lomb for $8.7 billion.
Under the leadership of J. Michael Pearson, Valeant saw enormous growth from 2008–2015. With continuous acquisitions, revenue increased from $1.2 billion in 2010 to $10.4 billion in 2015. Companies such as Mallinckrodt (MNK), Shire (SHPG), and Sanofi (SNY) have also experienced inorganic growth.
With such multifold revenue growth in such a short time, Valeant's share price rose from $5.70 in October 2008 to $263.80 in August 2015.
Article continues below advertisement
Valeant's business strategy
Valeant's business strategy was to acquire comparatively smaller private companies and cut down their operating expenses by slashing R&D (research and development). The company also hiked its drug prices phenomenally. And the company that was once a Wall Street favorite became embroiled in turmoil.
Much of Valeant's growth came from price increases rather than volume gains, and that wasn't sustainable. The company's steep price increases for some of its acquired products in 2015 came under regulatory scrutiny, and the giant began to fall. For details on this, you can refer to Will Valeant's Share Price Recover from the Recent Fall?
To avoid the direct risk associated with equity investment, you can opt for the Vanguard FTSE All-World ex-US ETF (VEU). Valeant Pharmaceuticals accounts for 0.03% of VEU's total holdings.
In the next part of the series, we'll take a closer look at the controversies that have plagued Valeant.