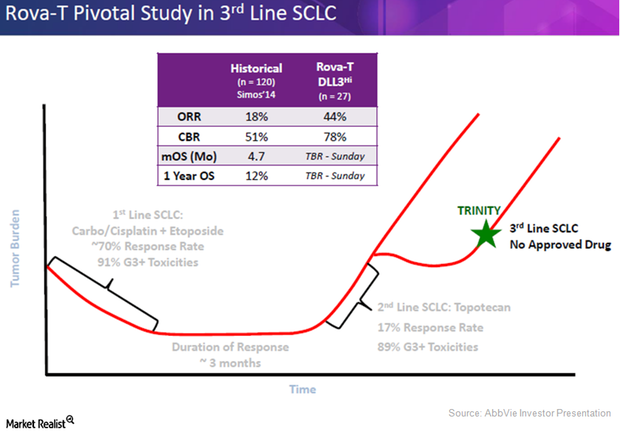 Understanding Trinity: Inside the Testing of AbbVie's Rova-T
Trinity
Trinity is a phase-2 clinical trial that tests the use of Rova-T as a third-line therapy for SCLC (small cell lung cancer). The enrolment of clinical subjects for this trial commenced in January 2016 and is expected to be completed by December 2016 across 28 worldwide locations. AbbVie expects to commercialize Rova-T by 2018.
Article continues below advertisement
Article continues below advertisement
Results from pivotal trial
The above diagram shows that the historical ORR (overall response rate) for third-line therapy for SCLC has been 18%, while the clinical benefit has been 51%. The median overall survival has also been just 4.7 months, while the median one-year survival has been 12%. Data obtained from Phase-1b trial demonstrated that the use of Rova-T as a third-line SCLC therapy resulted in 44% ORR and 78% clinical benefit.
Guidance for Industry Clinical Trial Endpoints for the Approval of Cancer Drugs and Biologics by FDA.gov explains ORR as "ORR is defined as the proportion of patients with tumor size reduction of a predefined amount and for a minimum time period. Response duration is usually measured from the time of initial response until documented tumor progression. The FDA has defined ORR as the sum of partial responses plus complete responses."
Based on the improved performance of Rova-T as compared with historical mean values, AbbVie expects that the Trinity trial and the overall small cell lung cancer program have high probabilities of success.
Future plans
AbbVie expects to continue its research of Rova-T and launch it as a front-line therapy for SCLC. The company also plans to launch the drug as a maintenance therapy for SCLC. If successful, Rova-T could catapult AbbVie (ABBV) into a leading position in an oncology segment currently dominated by players like Merck (MRK), Celgene (CELG), and Bristol-Myers Squibb (BMY). This could also boost the share price of the iShares S&P 500 Growth ETF (IVW), which has 0.58% of its total portfolio in AbbVie.
Now let's discuss PTK7-Auristatin, another investigational drug obtained by AbbVie through its acquisition of Stemcentrx.