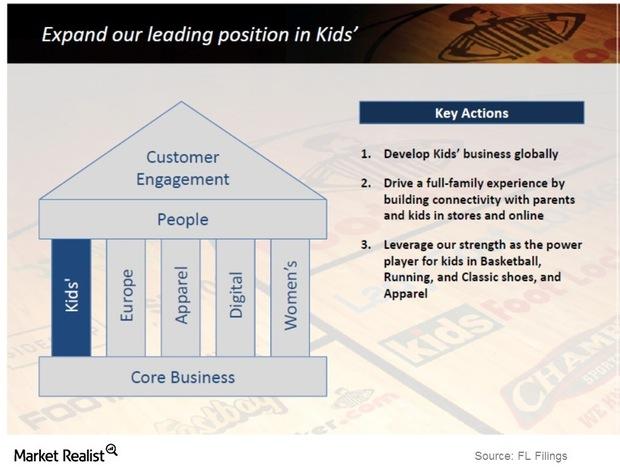 A Look at Foot Locker's Key Strengths and Weaknesses
What are Foot Locker's strengths?
Foot Locker (FL) has several key strengths. As a well established brand in the United States and Europe, it's the largest specialty retailer (XRT) of sporting goods in terms of US store count. It's also one of the largest sporting goods retailers (RTH) in the world.
The Foot Locker and Kids Foot Locker banners are the number-one and number-three retailers, respectively, of athletic gear for kids in the United States.[1. The NPD Group] We looked at this in detail in Part 6 of this series.
Article continues below advertisement
Article continues below advertisement
More importantly, FL plans to expand its store footprint to more markets. It's also branching out into new store formats to capture a greater share of the market in terms of demographics and products. The company's suppliers are well entrenched, and it's looking to increase the number of partnerships with vendors such as Nike (NKE), Adidas (ADDYY), and Under Armour (UA).
Foot Locker's product base
However, Foot Locker's product base is tilted more toward athletic footwear products than sports apparel. This puts the company at a disadvantage compared to rivals such as Dick's Sporting Goods (DKS) with a more diversified product base. Like Foot Locker, Finish Line (FINL) and Cabela's (CAB) also target niche segments of the market, although Cabela's is looking to change that.
While Foot Locker remains one of the largest retailers of athletic goods worldwide, it's at a disadvantage compared to retail giants such as Walmart (WMT) and Costco (COST) in terms of pricing and volume. That being said, Foot Locker's store strategies have been successful in attracting higher store traffic and boosting sales for several years. The retailer reported comp (comparable) growth for 25 straight quarters in fiscal 1Q17.
We'll analyze the company's key opportunities and threats in the next part of our series.