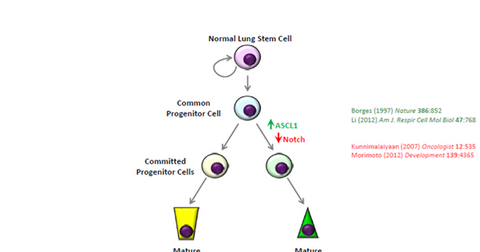 Inside the Unique Mechanism of AbbVie's Rova-T for Treating Small-Cell Lung Cancer
By Margaret Patrick

Jun. 30 2016, Updated 10:06 a.m. ET
Small-cell lung cancer
Rova-T is the key late-stage asset acquired by AbbVie (ABBV) through its acquisition of Stemcentrx. The drug mainly works through the action of the DLL3 (Delta-like 3) gene.
According to Cell Signaling Technology, notch signaling is "an evolutionarily conserved pathway in multicellular organisms that regulates cell-fate determination during development and maintains adult tissue homeostasis." According to AbbVie's R&D Day transcript, "the transcription factor ASCL1, and inhibition of the Notch pathway have both been demonstrated to drive neuroendocrine differentiation."
Article continues below advertisement
Barbara Campling, MD, Medical Oncologist further explains neuroendocrine differentiation, stating the following: "Some kinds of lung cancer have features of neuroendocrine differentiation. This means that these tumors express substances that are ordinarily detected only in nervous tissue, such as the brain or nerves. They can sometimes also secrete certain hormones, which are normally secreted by endocrine glands. The most common neuroendocrine tumor of the lung is small cell lung cancer, a major variety of lung cancer, which behaves somewhat differently than the other types of lung cancer that are collectively termed non-small cell lung cancer."
AbbVie's R&D Day transcript further explained that "In the context of small cell lung cancer where p53 and RB1 are almost inversely mutated, that transcription factor ASCL1 is driven on naturally high levels and inhibition of the Notch pathway also drive neuroendocrine tumorigenesis." Thus, the abnormal functioning of p53 and RB1 tumor-suppressing genes is a key factor leads to activation of cancer stem cells and tumor progenitor cells, together called tumor-initiating cells, which subsequently leads to neuroendocrine cancers.
Unique mechanism
Rova-T makes use of this unique cell biology to target small-cell lung tumors. By inhibiting DLL3, an inhibitor of the notch-signaling pathway, Rova-T attempts to stop cancer cells from proliferating and then to destroy them.
With DLL3 protein expressed in 80% small-cell lung cancer patients and in a high proportion (65%) of these patients, Rova-T, which is antibody drug conjugate and targets DLL3, is expected to be approved as a second-line and third-line therapy for SCLC. AbbVie could thus become a major oncology player, in league with other segment leaders like Celgene (CELG), Merck (MRK), and Bristol-Myers Squibb (BMY).
Notably, AbbVie's makes up about 1.5% of the SPDR S&P Dividend ETF (SDY).
In the next part, we'll analyze Trinity, a Phase-2 clinical trial that tests the uses of Rova-T.