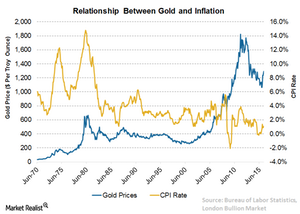 How Inflation Expectations Affect Gold Prices
By Russ Koesterich, CFA

Jun. 10 2016, Updated 10:05 a.m. ET
While real rates have historically had the most significant impact on gold's performance, inflation, more particularly the direction of inflation, has mattered as well. The best years for gold were those in which real rates were low and inflation was rising. Since 1971 there have been 12 years that fit that description, as Bloomberg data shows. Gold rose in 11 of those 12 years with an average return of over 35 percent.
Article continues below advertisement
Market Realist – Relationship between gold and inflation expectations
As discussed in the previous article, gold (IAU) has an inverse relationship with real interest rates. In this article, we'll discuss the relationship between gold (GLD) and inflation.
Gold is a real asset that normally provides a hedge against inflation. Since the early 1970s, when US (IVV) (SPY) severed the link between the dollar and gold, US inflation (TIP) and gold prices have shown a very high correlation. The chart above shows that gold prices tracked the CPI (consumer price index) during most of the periods.
Gold has performed exceptionally well during the period when interest rates are low and inflationary expectations are high. During the 1980s, when gold reached its peak of $666.70 per ounce, gold clearly tracked inflation, which also scaled its record high of 14.8%.
The sharp rise in gold prices was mainly attributed to investors' concerns regarding the decline in purchasing power due to a sharp rise in prices. A similar pattern is visible after the fall of gold from the peak to a low of $317 per ounce during the subsequent two years, while the inflation also fell to 2.5%.
The trend continued during the 1990s and 2000s, when gold prices tracked inflation, although the correlation seems to be a bit weak compared to the 1970s and 1980s. The strong correlation of gold with the sharp rise in inflation shows its safe haven value during periods of rapid price increases.