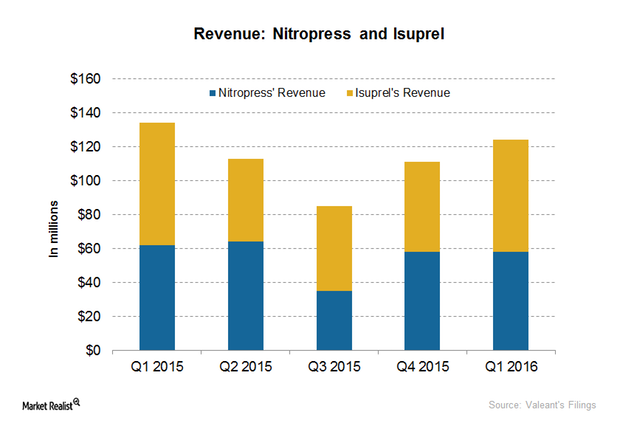 The Facts behind the Valeant Drug Pricing Controversy
Drug pricing controversy
Valeant Pharmaceuticals International (VRX) significantly raised the prices of two of its heart drugs—Nitropress and Isuprel—which caused an outrage and a controversy. The company was asked to give reasons for the sharp spike in the prices of these two drugs.
Later, it was found that Valeant had significantly raised prices for 54 of its drugs, not just the two cardiovascular drugs. In 2015, the average price hike for Valeant's drugs was 66%.
Article continues below advertisement
Nitropress and Isuprel
Valeant bought Nitropress and Isuprel from Marathon Pharmaceuticals in February 2015. Then it hiked the price of Nitropress by 212% and the price of Isuprel by 525%.
Historically Mallinckrodt (MNK), Horizon (HZNP), and Allergan (AGN) have adopted a policy of raising drug prices after acquisitions.
This sharp price increase brought Valeant into the spotlight. It was accused of price gouging, and its share price began falling. Critics said VRX raised its drug prices to meet its internal profit guidance. Valeant's price gouging also affected the entire specialty pharmaceuticals industry, and other companies saw their stock fall.
Historically, Valeant's revenue has grown by double digits. Considering the anticipated ~4% revenue decline in fiscal 2016, the stock still hasn't recovered.
In an attempt to regain the company's reputation, Valeant's CEO (chief executive officer) J. Michael Pearson, who adopted this aggressive business strategy, was replaced by Joseph C. Papa.
The new leadership is very focused on repaying debt and has made it a priority. In the next part of the series, we'll take a look at Valeant's core business.
To gain exposure to Valeant in a diversified manner, you can invest in the VanEck Vectors Pharmaceutical ETF (PPH), which holds 1.6% of its assets in Valeant.