The Evolution of Hemophilia Treatment—And What It Means for BioMarin
BioMarin's BMN 270 is a gene therapy being investigated for hemophilia A. On April 20, it announced early data of the phase-1 and phase-2 study of BMN 270.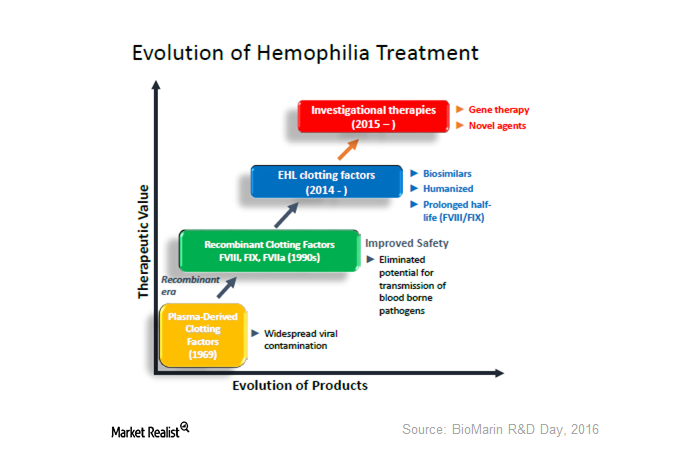 Plasma-derived clotting factors
In late 1960's plasma-derived clotting factor was the option for treating hemophilia. The factor VIII and factor IX derived from pooled plasma allowed more accurate dosing. However, it presented a higher viral contamination risk, and the safety of these products became a concern when many people lost lives to infections such as HIV.
Article continues below advertisement
Article continues below advertisement
Recombinant clotting factors
In the 1990s, the cloning of the factor VIII gene allowed for recombinant human factor VIII production and proved to be a major breakthrough. It eliminated the risk of the transmission of blood-borne pathogens.
Recent advances in hemophilia therapy include the use of inhibitors and prophylaxis. Specifically, EHL (extended half-life) clotting factors extend the time between infusions. (For more details, check out "What Are the Current Treatment Options for Hemophilia?")
Next generation therapies
Advanced investigational therapies include gene therapy and novel molecules. Hemophilia is a single gene disorder that holds a clear cause-and-effect relationship, and thus, gene therapy could be a real win for the disorder. Currently, Biogen (BIIB) and Sangamo Biosciences (SGMO), Shire (SHPG) through its subsidiary Baxalta, and Pfizer (PFE) are conducting research on gene therapy.
Gene therapy is expected to be a new paradigm for hemophilia patients because it's one-off therapy and novel therapy might require weekly or monthly dosage. The former has proven its efficacy, whereas novel treatments have yet to establish efficacy. Novel therapy includes Bispecific antibodies, RNA silencing, and Anti-TFPI.
BMN 270
BioMarin's (BMRN) BMN 270 is a gene therapy that is being investigated for hemophilia A. On April 20, 2016, BioMarin announced early data of its phase-1 and phase-2 study of BMN 270. After finding positive data, phase-3 design preparation began. (For details on BMN 270, check out "BMN 270: A Big Valuation Catalyst for BioMarin.")
To get exposure to BioMarin and control excessive company-specific risks, you can invest in the iShares Nasdaq Biotechnology ETF (IBB). BioMarin accounts for ~2.2% of IBB's total holdings.
In the next and final part, we'll look at what analysts are saying about BioMarin now.