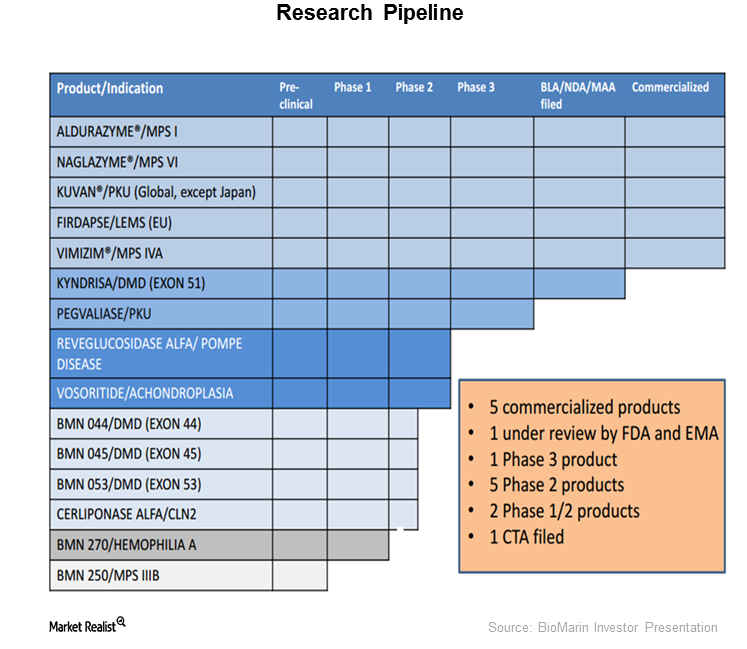 BMN 270: A Big Valuation Catalyst for BioMarin
Orphan drug designation for BMN 270
On March 1, 2016, BioMarin Pharmaceutical (BMRN) received orphan drug designation for BMN 270 from the FDA (US Food and Drug Administration). Following this news, BioMarin's stock jumped by about 6.96% the same day.
The valuation of a biotechnology company is subject to the number of products in its pipeline, their development stage, and the historical clinical trial success rate of the company. And BioMarin holds a robust research pipeline.
Article continues below advertisement
Update on BMN 270 study
BMN 270 is a pipeline gene therapy indicated for hemophilia A. The drug is AAV-factor VIII vector, with a market opportunity of more than $1 billion. There are ~90,000 patients in BioMarin's commercial territories.
Currently, BioMarin is conducting phase 1/2 trial to access safety and efficacy of the therapy in up to 12 patients. The company is treating the patients with third dose level, which is ten times higher than the starting dose.
Gene therapy and hemophilia A
Hemophilia A is a factor VIII (FVIII) deficiency disorder. Gene therapy fixes the defective gene with the corrected copy. There is no approved gene therapy to treat hemophilia. But many companies are conducting research on gene therapy for the condition. For example, Biogen (BIIB) is evaluating gene therapy for hemophilia in collaboration with Sangamo Biosciences (SGMO), while Baxalta (BXLT), Dimension Therapeutics (DMTX), and Pfizer (PFE) are all conducting their own research on gene therapy for hemophilia.
We should note here that stock prices are susceptible to company-, industry-, and economy-specific events. So to get exposure to BioMarin Pharmaceuticals and control excessive company-specific risks, investors can choose to invest in the iShares Nasdaq Biotechnology ETF (IBB). BioMarin accounts for about 2.7% of IBB's total holdings.
For ongoing analysis, keep checking in with Market Realist's Pharmaceuticals page.