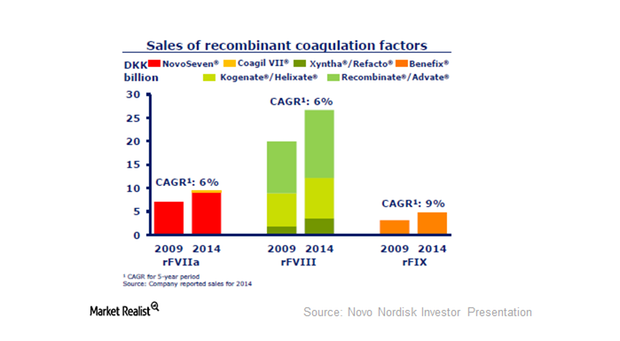 What Are the Current Treatment Options for Hemophilia?
Present treatment options for hemophilia
Hemophilia treatment primarily includes factor replacement therapy and prolonged half-life therapy such as factor VIII or factor IX infusion. There can be certain complications of therapy, such as viral infections from human clotting factors or developing antibodies that attack the clotting factor. Delayed treatment can result in damage to joints, muscles, or other body parts.
As the above graph depicts, the current factor VIII market is dominated by Pfizer's (PFE) Xyntha, Bayer's (BAYRY) Kogenate, Biogen's (BIIB) Eloctat, and Baxalta's (BXLT) Advate and Recombinate. Novo Nordisk (NVO) leads the recombinant factor VII market. Recombinate, launched in 1992, was Baxalta's first recombinant therapy. In the next part of this series, we'll have a look at Baxalta's current portfolio along with its pipeline. We'll also discuss how it could maintain its leadership position.
Article continues below advertisement
What is hemophilia?
According to the National Institutes of Health, hemophilia "is a rare bleeding disorder in which the blood doesn't clot normally." For details on the hemophilia market, please refer to Novo Nordisk Plans to Pursue Leadership in Hemophilia Market.
It is risky to directly invest in any equity, as pharmaceutical and biotechnology companies are highly sensitive to company-specific events such as pipeline success or failure, competitor entry, and market share loss. Therefore, to get exposure to Baxalta while avoiding excessive company-specific risks, investors could choose to invest in an ETF. ETFs provide diversified risk while granting exposure to a particular equity. One such fund is the SPDR S&P Biotech ETF (XBI). It offers a 1.8% exposure to Baxalta. In the next part of this series, we'll discuss how gene therapy could transform the hemophilia space.