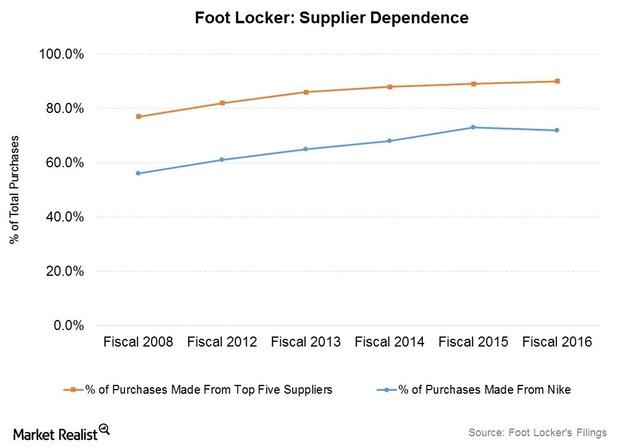 Competitive Forces Shaping Foot Locker, Sporting Goods Retailers
Porter's Five Forces: Ease of substitution
It's easy for customers to switch between sporting goods retailers. While most of the merchandise tends to be branded, specialty retailers (XRT) compete on the basis of product exclusives, assortment, price points, and overall customer experience.
Some retailers (RTH) such as Foot Locker (FL) also have shop-in-shop arrangements with global brands such as Nike (NKE). This tends to help store traffic.
Article continues below advertisement
Article continues below advertisement
Dick's Sporting Goods (DKS) and Foot Locker also offer private label brands. This is intended to provide the customer with a greater degree of product differentiation and build customer loyalty. Celebrity partnerships such as DKS's athleisurewear line Calia with Carrie Underwood may also provide some degree of product differentiation.
Bargaining power of buyers
Due to a high degree of fragmentation in the industry and few barriers to entry, the bargaining power of buyers is rather high. With every major brick-and-mortar retailer also offering e-commerce options, customers can shop around for the best deals on products.
Bargaining power of sellers
Foot Locker sources about 72% of its merchandise from one vendor: Nike (NKE). Its top five suppliers account for about 90% of purchases. Foot Locker's vendors also include Adidas (ADDYY), Puma (PMMAF) (PPRUF) (PPRUY), VF Corporation (VFC), and Under Armour (UA).
In contrast, Nike (NKE) and Under Armour (UA) are two of Dick's Sporting Goods' largest suppliers. They account for 20% and 12%, respectively, of these retailers' purchases in the last fiscal year.
Both FL and NKE have had a healthy relationship for years. They've also expanded the number of shop-in-shop partnership concepts over the years, as we'll see in other parts of this series. We'll look at supplier relationships in greater detail in Part 12.
FL, DKS, NKE, and UA together constitute 2.1% of the portfolio holdings of the First Trust Consumer Discretionary AlphaDEX ETF (FXD).