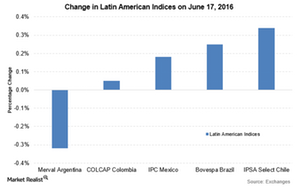 Business Confidence Rises for Brazil, Latin American Markets Up
By David Meyer

Updated
Latin American markets rise in line with commodity sectors
The bolstered Latin American markets took their cues from higher commodity prices on June 17. Investors were trading higher in the commodity- and crude-related indexes, fostered by a weaker dollar index and lower anxiety related to the possible exit of Britain from the European Union.
Crude prices had been retreating on a slumping outlook earlier last week as investors transferred more funds into safe-haven securities. The Brazilian BM&F Bovespa SA index and the Mexican IPC index fell by 0.25% and 0.18%, respectively.
The increase in global crude prices and other essential commodities caused the Colombian COLCAP index to trade slightly higher by 0.05%. Colombia depends heavily on crude prices, as prices directly affect the country's export revenues.
Among the Latin American indexes, the Argentinian Merval Index fell by 0.32% while the Chilean IPSA Select Index was trading 0.34% higher.
Article continues below advertisement
Brazil's business confidence rises for June
Business confidence in Brazil rose on June 17 to 45.7 in June, compared to 41.3 in May, touching the highest figure since October 2014. The confidence levels for current economic conditions, current company conditions, economic expectations, and company expectations rose, driving the overall increase.