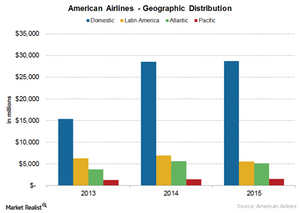 American Airlines and Its Geographic Mix of Revenues
Geographic mix
American Airlines (AAL) operates as a single unit with an extensive route network that includes the United States and the Atlantic, Pacific, and Latin American regions. Most of its air routes generate in and out of the Dallas/Fort Worth International Airport and the John F. Kennedy International Airport.
AAL benefits from integrated revenue pricing and a route network that includes wholly-owned aircraft as well as third-party regional carriers that fly under capacity purchase agreements operating as American Eagle.
Article continues below advertisement
Article continues below advertisement
Domestic market leads
The domestic market has been the key revenue generator for American Airlines with about 70% of the 2015 top line coming in from domestic routes. Prior to the merger, AAL made 60% of its revenues from domestic routes. In the early 2000s, its domestic revenue share was higher at about 65%.
The trend has been similar for the entire industry, with domestic markets outperforming international markets in terms of both yield and overall revenue performance.
American Airlines boasts the strongest domestic network in the industry. On most domestic non-stop routes, it faces competition from at least one, and sometimes more than one, domestic airline. These include Alaska Airlines (ALK), Delta Air Lines (DAL), Allegiant Air (ALGT), JetBlue Airways (JBLU), Spirit Airlines (SAVE), Southwest Airlines (LUV), and United Airlines (UAL).
The domestic market has consistently outperformed international markets for the past few years, as you can see in the above graph.
International market catches up
American Airlines also provides strong international service to Central and South America, Asia, Europe, and Australia. Revenues from its foreign operations make up about 30% of its total operating revenues. The airline has been consistently expanding its global footprint by adding new routes, both domestic and international.
The airline also competes with other US airlines to provide scheduled passenger and cargo services between the United States and various overseas locations, foreign investor-owned airlines, and foreign state-owned airlines such as carriers based in the Middle East.
You can gain coverage to airline stocks by investing in the SPDR S&P Transportation ETF (XTN).
Now let's look at American Airlines' major revenue drivers.