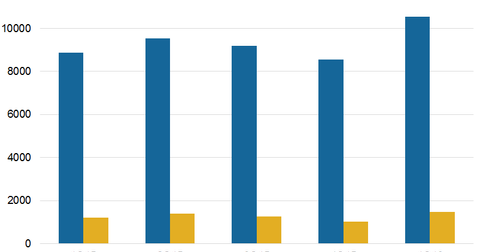 Berkshire Hathaway's Growing Manufacturing Portfolio
By Robert Karr

Jun. 14 2016, Updated 8:04 a.m. ET
Adding businesses
Warren Buffett continues to place bets on manufacturing despite the strong dollar driving out local competitiveness. He is long on industrials and production for the retail segment.
Berkshire Hathaway's (BRK-B) subsidiaries are engaged in industrial (VIS) businesses, building products, and apparel businesses. They manufacture industrial and end user products. Examples of subsidiaries in this space include the following:
Lubrizol, a specialty chemical manufacturer
International Metalworking Companies, an industry leader in metal-cutting tool businesses with worldwide operations
Forest River, a leading manufacturer of leisure vehicles
CTB International, a manufacturer of equipment and systems for the livestock and agricultural industries
Berkshire Hathaway's main strategy is to acquire businesses to expand or add value to them. In 2015, Warren Buffet added Precision Castparts (PCP) to Berkshire Hathaway's manufacturing portfolio for about $32 billion. In 1Q16, the company's manufacturing business reported revenues of $10.6 billion, as compared to $8.9 billion during the same quarter in 2015. As of February 29, 2016, the company's consumer products group includes Duracell, a manufacturer of alkaline batteries.
Article continues below advertisement
The division reported earnings before taxes of $1.5 billion, compared to $1.2 billion during the previous year's corresponding quarter. The business generates more profitability on average than the overall company. In 2Q16, Berkshire Hathaway's manufacturing business is expected to see marginal growth as manufacturing continues to contract in the United States due to the strong dollar.
McLane's volume
McLane is a high-volume, low-margin business. In 2012, it acquired Meadowbrook Meat Company, a large food service distributor for national restaurant chains. Berkshire Hathaway acquired McLane from Walmart (WMT) for $1.5 billion in 2003.
Berkshire Hathaway reported revenues of $11.8 billion and a profit of $136 million for McLane in the first quarter, as compared to revenues of $11.6 billion and a profit of $131 million in the prior year's corresponding quarter. Revenues expanded due to food service and beverage operations.
McLane operates a wholesale distribution business that provides grocery and nonfood products to retailers, convenience stores, and restaurants. The company also operates as a wholesale distributor of distilled spirits, wine, and beer. Its clients include Walmart, 7-Eleven, and Yum! Brands (YUM).
Continue to the next part of this series for a discussion of Berkshire Hathaway's performance in the service and retailing division.