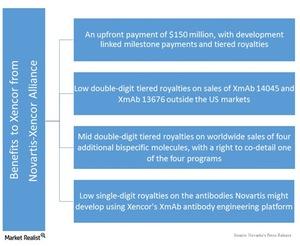 What Are the Benefits of the Novartis-Xencor Alliance to Xencor?
By Mike Benson

Updated
About Xencor
Xencor is a biopharmaceutical company focused on the development of engineered monoclonal antibodies for the treatment of various therapeutic areas related to immunology, oncology, and allergic diseases. Xencor's XmAb antibody engineering platform designs bispecific antibodies to target two different antigens simultaneously.
Article continues below advertisement
The Novartis-Xencor alliance
On June 28, 2016, Novartis (NVS) and Xencor entered into a collaborative agreement focused on the codevelopment of two bispecific antibodies and licensing Novartis to use Xencor's XmAb Bispecific Fc Domain technology for developing new antibodies. The benefits of the agreement to Xencor are as follows:
Xencor will receive an upfront payment of $150 million and will be eligible for milestone payments linked to clinical development, regulatory development, and royalties from sales of products once they are launched in the market
for the two T-cell-engaging bispecific antibodies XmAb 14045 and XmAb 13676, Xencor will receive low double-digit tiered royalties linked to their sale outside US markets, and the development costs of these antibodies will be borne equally by Novartis and Xencor
Xencor retains full commercialization rights for the two bispecific antibodies in US markets
for the four additional bispecific programs for which Novartis has been given the rights to develop and commercialize worldwide, Xencor will receive mid single-digit tiered royalties for global sales and the right to co-detail one of the four programs
Xencor will be eligible to receive low single-digit royalties on the molecules developed by Novartis using Xencor's XmAb antibody engineering platform
Xencor's other partnerships 
At present, Xencor has nine compounds based on XmAb technology in clinical development, either with its internal team or with partners. Apart from Novartis, Xencor's codevelopment partners include Amgen (AMGN), Novo Nordisk (NVO), Merck (MRK), Alexion Pharmaceuticals, CSL Group, MorphoSys, Boehringer Ingelheim, and Janssen, a Johnson & Johnson (JNJ) company.
To divest risk, investors could consider ETFs such as the SPDR S&P Biotech ETF (XBI). ~1% of its total assets are in Xencor.