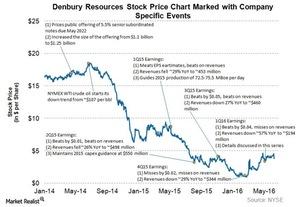 Analyzing Denbury Resources' 1Q16 Earnings Call
By Nicholas Chapman

Dec. 4 2020, Updated 10:53 a.m. ET
Denbury Resources' 1Q16 earnings call
For 1Q16, Denbury Resources (DNR) reported an adjusted EBITDA (earnings before interest, tax, depreciation, and amortization) of ~$105 million with an EBITDA margin of ~40%. Its EBITDA margin is only ~20% lower despite an ~41% reduction in its 1Q16 operating revenues. While commenting on the company's performance in its 1Q16 earnings call, Denbury Resources' CEO, Philip Rykhoek, said that "our core goals for 2016 are to reduce costs, optimize our business, reduce debt, and to do all that while maintaining our liquidity. I'm very pleased to report that we are making significant process on all these goals and definitely headed in the right direction."
Article continues below advertisement
Cost reduction 
In 1Q16, Denbury Resources reported LOE (lease operating expenses) of $16.23 per barrel of oil equivalent. This is the lowest level for its LOE since 2010. Rykhoek said that "These savings are largely due to continued cost reduction efforts across almost all categories for LOE, coupled with cost savings attributable to shutting in or postponing repairs to uneconomic wells. I know you're wondering if we can maintain the LOE at that level, and I admit it will be difficult as a significant portion of the reduced costs relate to lower workover expenses. We do anticipate more repair and workover activity later this year with the higher oil prices, and we also anticipate a gradual decline in our production throughout the year."
As part of its cost reduction program, Denbury Resources reduced its staff count by ~20% in February.
Optimizing operations
Optimizing operations is one of Denbury Resources' core goals. In 1Q16, Denbury Resources reduced its carbon dioxide injection volumes to ~634 MMcf (million cubic feet) per day—a reduction of ~37% compared to 1Q15 carbon dioxide injection volumes of ~1,000 MMcf per day.
Denbury Resources' COO, Christian Kendall, said that "We believe these reductions are sustainable… This high CO2 efficiency does more for us than reduce LOE and improve field economics; it extends the life of our strategic low-cost CO2 assets, reducing our investment level and, ultimately, allowing us to take on more development with the same CO2 resource."
Other S&P 500 (SPY) companies that are also involved in the enhanced oil recovery space are Devon Energy (DVN), Occidental Petroleum (OXY), and ConocoPhillips (COP).
In the next part, we'll discuss Wall Street's reaction.