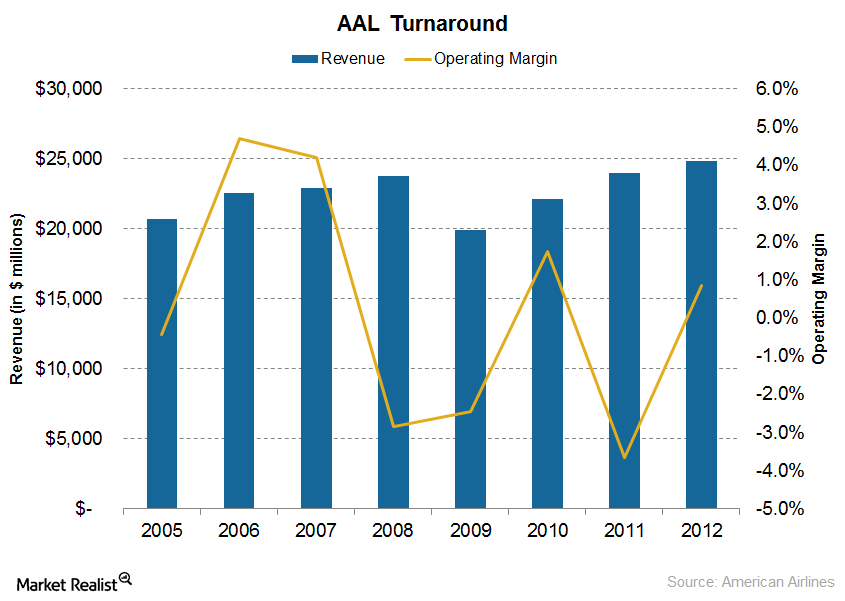 How Did American Airlines Recover from Bankruptcy?
Bankruptcy in 2011
American Airlines Group (AAL) filed for Chapter 11 bankruptcy on November 29, 2011, in the United States Bankruptcy Court after suffering losses for about four consecutive years. But later, it exited bankruptcy by merging with US Airways to form American Airlines Group.
Article continues below advertisement
Article continues below advertisement
The turnaround
Soon after US Airways declared its intention to merge with American Airlines, AAL started working on its weak points. It began restructuring costs, which included job cuts. Its merger with US Airways helped both companies create a substantially larger network, giving the merged company the opportunity to offer competitive pricing on more routes.
AAL managed to cut costs and improve operating income as well as net income or profits in about three years. It turned profitable in 2014, and the numbers have improved since then.
What factors helped?
As the overall economy improved after September 11, 2001, travel got a much-needed boost. Airplanes were being fully booked again, and there was little pressure to lower ticket prices.
Of course, the timing of the fall in crude oil prices was also perfect. The price of oil is an airline's biggest cost. Crude oil has taken a huge fall since 2011, benefiting airlines. American Airlines had about $4.5 billion in fuel savings in 2015.
American Airlines got lucky with the right merger at the right time in the middle of an improving economy. It capitalized on the opportunity and came out of its past troubles into a state of competitive profitability in a very short time—or so it seems for now.
Investors can gain coverage to airline stocks by investing in the iShares Dow Jones Transportation Average (IYT), which holds 4.2% in Alaska Air (ALK), 3.9% in United Continental (UAL), 3.8% in Southwest Airlines (LUV), 3.6% in Delta Air Lines (DAL), 2.8% in American Airlines (AAL), and 1.7% in JetBlue Airways (JBLU).
Next, let's see why the American Airlines–US Airways merger was inevitable.