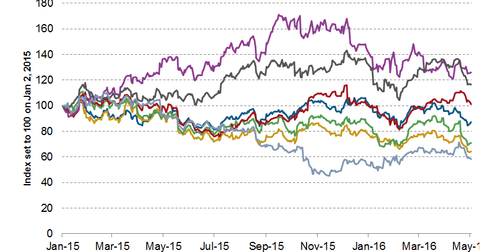 American Airlines Stock: The Past, the Crisis, the Recovery
By Ally Schmidt

Updated
Airline industry suffers from bankruptcy in mid-crisis
In 2005, American Airlines was one of the top airline companies with a leading market revenue share of about 29%. This is clearly evident from the company's stock performance that year, as you can see in the graph below. But by 2011, American Airlines had slipped to third place with about a 19% market share.
In 2011, American Airlines' then parent company AMR Corporation filed for bankruptcy after reporting losses for four consecutive years. Its stock had fallen to historic lows during the years of the subprime crisis, as you can see in the above graph.
Article continues below advertisement
AAL recovers after the merger
When American Airlines lost much of its market share, a merger with an airline such as US Airways seemed like a good solution. It would have network coverage that would enable it to compete with other legacy peers.
After the merger, the new entity became the world's leading airline in terms of fleet size, network, and finances. American Airlines stock recovered well and has risen more than 270% since 2011 when it filed for bankruptcy. Higher demand for travel, lower fuel prices, and savings from not using hedging strategies have all helped the airline boost performance and generate huge cash piles in the last few years.
However, the airline didn't use its cash pile wisely. Instead of reducing its towering debt, it took on more debt to fund buybacks. In the second half of 2015 and so far this year, AAL stock has fallen, touching a 52-week low on June 6, 2016.
Investors can gain coverage to airline stocks by investing in the iShares Transportation Average (IYT), which holds 4.2% in Alaska Air (ALK), 3.9% in United Continental (UAL), 3.8% in Southwest Airlines (LUV), 3.6% in Delta Air Lines (DAL), 2.8% in AAL, and 1.7% in JetBlue Airways (JBLU).
In the next part, we'll look at some of American Airlines' key revenue streams.