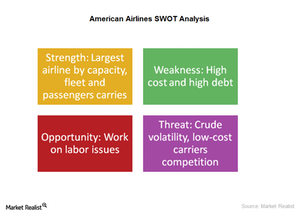 What Are American Airlines' Key Strengths and Weaknesses?
By Ally Schmidt

Updated
American Airlines' strengths
Some of the key strengths that keep American Airlines ahead of its competitors are the following:
After its merger, American Airlines became the largest airline in terms of fleet, capacity, and number of passengers carried.
It has a strong hold on key hubs such as Dallas–Fort Worth, Miami, Chicago, New York, and Washington, D.C. It has connectivity over almost every route, giving it a network advantage.
The AAdvantage program, recognized as the best customer loyalty program, is now even more profitable.
Known for its onboard entertainment content, it has one of the best onboard services.
It has been on the path of continuous domestic and international network expansion.
Article continues below advertisement
American Airlines' weaknesses
AAL's rising debt levels combined with low margins and unit revenues are a cause of concern.
Low-cost carriers have been aggressively capturing market share.
Its international segment still remains weak.
It's overly dependent on low fuel prices.
American Airlines' opportunities
American Airlines could work on cash deployment and other labor issues.
There could be more leverage on code-share agreements with other airlines.
AAL could expand more aggressively by partnering in lucrative markets such as the Asian, East Arab, and African markets.
Threats to American Airlines
Volatility in the crude oil market and the rise in crude oil prices in the future could hamper AAL's bottom line.
Labor issues, if not sorted out, could lead to higher labor costs.
Low-cost carriers' aggressive expansion into the markets could challenge legacy carriers.
All in all, American Airlines still has a lot of work to do.
You can gain coverage to airline stocks by investing in the iShares Transportation Average (IYT), which holds 4.2% in Alaska Air (ALK), 3.9% in United Continental (UAL), 3.8% in Southwest Airlines (LUV), 3.6% in Delta Air Lines (DAL), 2.8% in AAL, and 1.7% in JetBlue Airways (JBLU).
Let's move on now to see the best approach for valuing American Airlines.