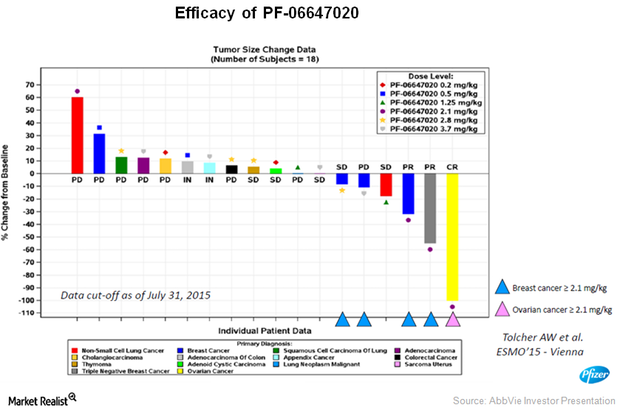 Why AbbVie Expects PTK7 to Enhance Its Oncology Capabilities
PTK7-targeted drug
Currently in its phase-1 clinical trial, AbbVie's (ABBV) PF-06647020, an ADC (antibody drug conjugate) targeting protein kinase 7, or PTK7, could become a major therapy for advanced solid tumors such as ovarian cancer, breast cancer, and non-small cell lung cancer. The investigational drug has been added to AbbVie's oncology portfolio, due to the acquisition of Stemcentrx.
Since 2011, Stemcentrx has been working in partnership with Pfizer (PFE) to develop PF-06647020. ADC technology is also being widely used by peers such as Pfizer (PFE), Merck (MRK), and Eli Lily (LLY) to develop cancer therapies.
Article continues below advertisement
Medscape explains the functioning of ADCs as "a broad class of molecules comprising a potent cytotoxic agent conjugated with a monoclonal antibody using a chemically stable linker. By selecting a monoclonal antibody directed against a tumor-specific or tumor-associated antigen, ADCs allow the targeted delivery of highly potent cytotoxic agents that result in unacceptable toxicity when administered as free agents."
Clinical trial results
The above diagram shows the results from the phase-1 clinical trials of PF-06647020 across multiple types of solid tumors and a variety of dosage forms. This data was presented by Stemcentrx at the 40th congress of the ESMO (European Society for Medical Oncology) and enrolled patients with various types of cancers.
According to AbbVie's R&D Day presentation, PTK7 is an antigen that is expressed by ovarian, breast, and non-small cell lung cancer tumors. Data from the above clinical trial shows that the use of PTK7-targeted therapy resulted in a response of approximately 50% in the case of breast cancer and an almost complete response for ovarian cancer. These early-stage results underline the strong efficacy profile of PF-06647020. The early-stage trials have also demonstrated that the drug is well-tolerated by patients, given its low toxicity.
If approved, the drug could boost AbbVie's share price as well as that of the iShares Russell 1000 ETF (IWB), which has about 0.48% exposure to the company.
In the next part, we'll analyze EFNA4-Calicheamicin.