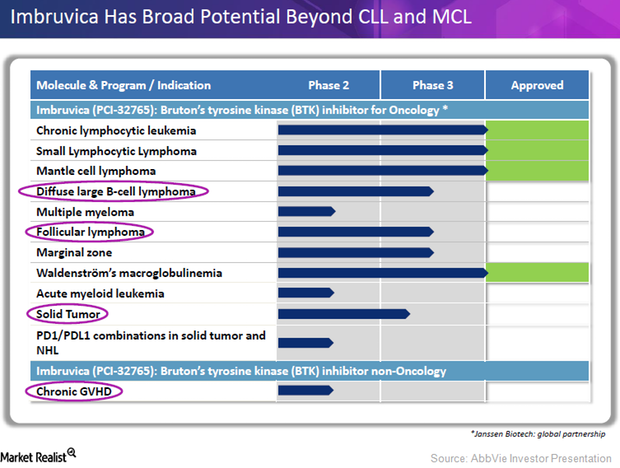 Why AbbVie Continues to Explore Imbruvica for Diffuse Large B-Cell Lymphoma
Multiple indications
In addition to CLL (chronic lymphocytic leukemia) and mantle cell lymphoma, AbbVie (ABBV) expects to position Imbruvica as a therapy for multiple indications such as follicular lymphoma, solid tumor, diffuse large B-cell lymphoma, and chronic graph versus host disease. The company will thus prove a strong competition for other oncology players such as Merck (MRK), Bristol-Myers Squibb (BMY), and Eli Lily (LLY).
Article continues below advertisement
Diffuse large B-cell lymphoma
According to the Lymphoma Research Foundation, "Lymphoma is the most common blood cancer. The two main forms of lymphoma are Hodgkin lymphoma and non-Hodgkin lymphoma." The Lymphoma Research Foundation further explains DLBCL (diffuse large B-cell lymphoma) as "most common form of NHL, accounting for up to 30 percent of newly diagnosed cases in the United States."
DLBCL is an aggressive or fast-growing lymphoma. It can arise in lymph nodes or outside of the lymphatic system, in the gastrointestinal tract, testes, thyroid, skin, breast, bone, or brain." DLBCL is further classified into several sub-types such as activated B-cell (or ABC) subtype and non-germinal center B-cell (non-GCB) subtype. AbbVie believes that Imbruvica is more effective in the ABC subtype of DLBCL patients.
Phase-1 clinical trial
In the phase-1 clinical trial, AbbVie demonstrated the efficacy of Imbruvica in combination with R-CHOP (rituximab, cyclophosphamide, doxorubicin, vincristine, prednisone) in treatment-naive DLBCL patients. The therapy resulted in an overall response rate of 100%, with complete responses in 91% of patients and partial responses in 9% of patients.
Currently, AbbVie is testing the efficacy of Imbruvica with R-CHOP in treatment-naive DLBCL patients in an ongoing phase-3 clinical trial referred to as Phoenix. Notably, AbbVie makes up about 2.5% of the iShares Global Healthcare ETF (IXJ).
Now let's explore AbbVie's efforts to expand Imbruvica's label for follicular lymphoma.