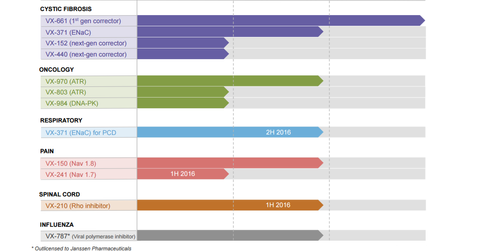 How Does Vertex Plan to Expand Beyond Cystic Fibrosis?
By Jillian Dabney

Updated
Vertex's non-CF pipeline
Vertex Pharmaceuticals (VRTX) is trying to expand its product base beyond CF (cystic fibrosis). Currently, it holds molecules targeting the oncology, respiratory, pain, spinal cord, and influenza spaces. Its non-CF treatments include VX-371, VX-150, VX-241, VX-210, and VX-787.
Article continues below advertisement
Oncology pipeline
Vertex's oncology portfolio comprises VX-970, VX-803, and VX-984. It's currently conducting two Phase 1 and 2 studies for VX-970, the most advanced oncology drug. The studies "are enrolling specific cohorts of triple-negative breast cancer patients and non-small cell lung cancer patients."
Vertex's two cooperative research and development agreements (or CRADAs) with the National Cancer Institute will further evaluate the molecule for other types of cancer. VX-803 and VX-984 are in Phase 1 of development.
VX-371: Respiratory disease drug
VX-371, a CF pipeline drug, is also being evaluated for other pulmonary diseases. The drug is being developed in collaboration with Parion Sciences.
Article continues below advertisement
Pain management portfolio
The pain management pipeline comprises VX-150 and VX-241. A Phase 2 proof-of-concept study for VX-150 was initiated in 1Q16.
VX-210: A spinal cord injury drug
Vertex started a Phase 2b and 3 study of VX-210 in 1Q16. The drug is being evaluated for the treatment of acute spinal cord injury.
VX-878: Influenza drug
Vertex has out-licensed VX-878 to Janssen Pharmaceuticals. The drug was discovered by Vertex, but Janssen will exclusively develop and commercialize it for treating influenza. Payments associated with the drug are recognized as collaboration revenue to Vertex.
The success or failure of any drug results in price volatility in a company's stock. To diversify the risk of investing directly in Vertex Pharmaceuticals, investors can look for options such as the iShares Nasdaq Biotechnology ETF (IBB).
IBB offers diversified risk exposure, as its holdings span across the sectors. IBB has 8.0%, 7.0%, and 2.6% holdings in Amgen (AMGN), Regeneron (REGN), and BioMarin (BMRN), respectively. Vertex makes up 3.4% of IBB's total assets.