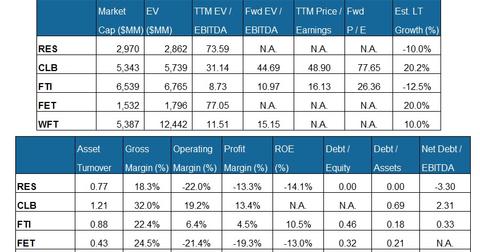 How Does RPC, Inc.'s Compare to Peers in Valuation?
By Alex Chamberlin

May. 18 2016, Updated 6:06 a.m. ET
Comparable company analysis
As you can see in the table below, FMC Technologies (FTI) is the largest company by market capitalization among our set of select OFS (oilfield services and equipment) companies. Forum Energy Technologies (FET) is the smallest of the lot by market capitalization.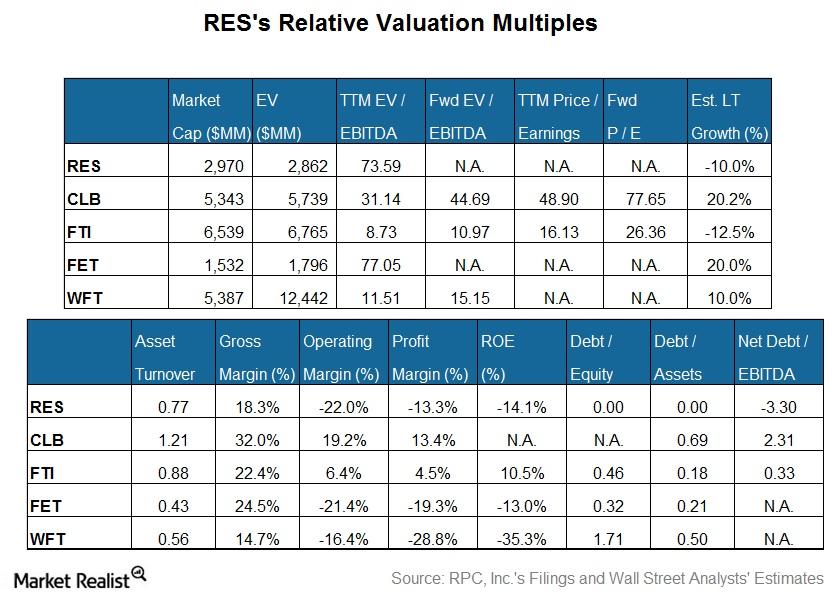 Article continues below advertisement
EV-to-EBITDA
RPC, Inc.'s (RES) EV (enterprise value, or approximately the summation of a company's equity value and net debt), when scaled by TMM (trailing-12-month) adjusted EBITDA (earnings before interest, taxes, depreciation, and amortization), is significantly higher than the peer average. FTI's EV-to-EBITDA multiple is the lowest in the group.
Forward EV-to-EBITDA is a useful metric to gauge relative valuation. But RES's forward EV-to-EBITDA is not available, which reflects the analyst expectation of negative EBITDA for the company in 2016. Notably, RES makes up 3.5% of the SPDR S&P Oil & Gas Equipment & Services ETF (XES).
Debt levels
As we discussed earlier in this series, RES's net-debt-to-EBITDA multiple is negative as a result of its negative net debt. A lower multiple could indicate adequate cash to repay its debt. But RES had zero debt as of March 31, 2016, which is comforting when crude oil prices are as volatile as they are now.
RES's debt-to-equity multiple is zero as a result of its zero debt at the end of 1Q16. A lower debt-to-equity ratio indicates decreased risk level.
PE ratio
RES's valuation expressed as TTM PE (price-to-earnings) multiple is not meaningful, given its negative adjusted earnings. And as its forward PE multiple is also not available, it indicates analyst expectations of net loss for RES in the next four quarters.
As shown in the table above, RPC Inc. is making losses at the operating level. Also, analysts expect a 10% earnings contraction for the company over the next three to five years. On the other hand, RES's zero debt should lower the company's riskiness, partially offsetting the strain on its valuation.
In the next and final part, we'll take a closer look at RES and its related ETFs.