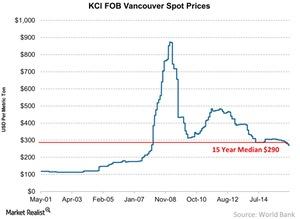 How Do Recent Potash Prices Compare with Their 15-Year Average?
Potash prices
The average weekly price of MOP (muriate of potash) in Vancouver remained unchanged for the week ended May 20, 2016. However, the prices have fallen below the 15-year average price of $290 per metric ton. Companies that produce MOP, including PotashCorp (POT), Intrepid Potash (IPI), and Mosaic (MOS), have been impacted by this price drop.
Article continues below advertisement
Prices
For the week ended April 29, 2016, MOP prices stood at $269 per metric ton, unchanged from the previous week. However, the price of standard MOP in Southeast Asia inched down to $249 per metric ton from $253 per metric ton.
MOP prices in the Corn Belt also declined slightly, to $214 per metric ton ($236 per short ton), compared with the previous week's $215 per metric ton. On the other hand, the price of granular MOP in Brazil increased to $226 per metric ton for the week ended May 20, compared with $225 per metric ton one week earlier.
Prices down significantly
MOP prices in Vancouver fell by 13% in the week ended May 20, from $307 per metric ton in the previous year. MOP in Brazil declined by 31.7% YoY (year-over-year) from $331 per metric ton. In Southeast Asia, standard MOP prices declined by 25% from $333 per metric ton YoY. In the Corn Belt, MOP prices sank by 37% from $341 per metric ton, or $376 per short ton.
The downward price movements mentioned above show that the market for potash producers such as PotashCorp (POT), Mosaic (MOS), Intrepid Potash (IPI), and Agrium (AGU) remains challenging. You can gain exposure to these companies through the SPDR S&P North American Natural Resources ETF (NANR). To explore more about agricultural fertilizer companies, visit our Agricultural Fertilizers page.