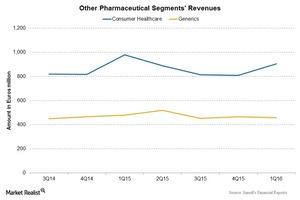 Sanofi's Consumer Healthcare and Generics Franchises
Consumer Healthcare franchise
Sanofi's (SNY) Consumer Healthcare franchise's products include Allegra, Doliprane, and Nasacort. The segment reported a 3.1% decline in revenues at 905 million euros in 1Q16, compared to its 1Q15 revenues.
The negative impact of Venezuela and the divestiture of the Small Products segment impacted the revenues negatively. Excluding these, the franchise revenues increased over 4% mainly due to the performance on the US markets, followed by Australia and Brazil.
Article continues below advertisement
Allegra
Allegra, an antihistamine drug, is used to treat indoor and outdoor allergies. It is one of the few non-drowsy anti-allergic drugs. Allegra contributed over 15% of the franchise revenues at 140 million euros during 1Q16—nearly flat compared to 1Q15.
Allegra competes with Bayer's Claritin, as well as Johnson & Johnson's (JNJ) Zyrtec and Benadryl.
Nasacort
Nasacort is a nasal spray used for the relief of nasal allergies. Nasacort reported an increase of 7% in its 1Q16 revenues at 45 million euros, mainly driven by increased sales in the US markets.
Nasacort competes with GlaxoSmithKline's (GSK) Flonase, Novartis's (NVS) Otrivin, and Bayer's Afrin. Other nasal sprays include Meda Pharmaceuticals' Dymista and Astepro, as well as Boehringer Ingelheim's Atrovent.
Article continues below advertisement
Other products
Doliprane, an analgesic, reported a decline of nearly 9% in its revenues to 77 million euros in 1Q16 as compared to 1Q15. Enterogermina, another drug in the Consumer Healthcare Products segment, reported a decline of more than 22% in its 1Q16 revenues at 42 million euros. Other products from this franchise include Essentiale, Maalox, and Lactacyd.
Generics franchise
Although Sanofi's Generics franchise has a small contribution toward the overall group revenues for Sanofi (SNY), it reported positive growth during 1Q16. The 1Q16 revenues increased by over 3.3% to 459 million euros. This was mainly driven by overall sales in the US and generic versions of Plavix in Japan.
For broad-based exposure to this industry, investors can consider the First Trust Value Line Dividend ETF (FVD), which holds 0.5% of its total assets in Sanofi (SNY).