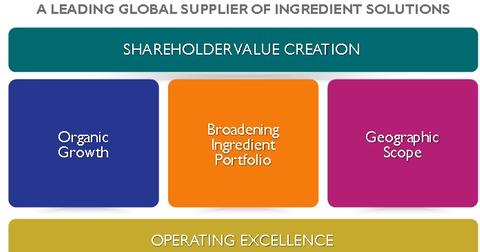 Understanding Ingredion's Strategic Blueprint for Growth
By Sushree Mohanty

Updated
Ingredion's strategic blueprint
Ingredion (INGR) has a strategic blueprint to create shareholder value, and this blueprint has guided the company's growth goals for the past five years. In 2015, INGR made two strategic acquisitions—Penford Corporation and Kerr Concentrates—and both have expanded the company's special ingredient offerings.
The company expects that its available cash balances, future cash flow from operations, access to debt markets, and borrowing capacity under their credit facilities will provide them with sufficient liquidity. The company also expects this to fund its anticipated capital expenditures, dividends, and other investing and financing activities for the foreseeable future.
Article continues below advertisement
Recent acquisition
On February 4, 2016, Ingredion (INGR) announced a definitive agreement with Pingyuan County Juyuan State-Owned Asset Management. Ingredion intends to acquire the state-owned Shandong Huanong Specialty Corn Development in Pingyuan County, Shandong Province, China.
This acquisition will be an addition to the company's Asia-Pacific segment and will likely contribute to China's business. It will also support Ingredion's specialty ingredients business in China. Specifically, the acquisition enhances Ingredion's capacity in Asia-Pacific with a vertically integrated manufacturing base for specialty ingredients. But the acquisition is pending approval by Chinese government authorities and is waiting for other customary closing conditions to be fulfilled. No details of the deal were disclosed.
Management's view about the deal
Jorgen Kokke, Ingredion's Senior Vice President of Asia-Pacific and EMEA (Europe, the Middle East, and Africa), stated that "This acquisition is another step in executing our strategic blueprint for growth. It enhances our capacity in Asia-Pacific, with a vertically integrated manufacturing base for specialty ingredients. China is a growing market for our specialty starches, and this acquisition provides a base for further expansion to accommodate future market growth in China and across Asia Pacific."
Ingredion's main competitors in the industry include General Mills (GIS), Pinnacle Foods (PF), and J&J Snack Foods (JJSF). GIS and PF have risen by 7% and 5.2%, respectively, in 2016, but JJSF has fallen by 11.6%. The Vanguard Consumer Staples ETF (VDC) and the Fidelity MSCI Consumer Staples Index ETF (FSTA) invest 0.32% and 0.24% of their respective holdings in Pinnacle Foods.
In the next part, we'll analyze what Ingredion has been doing to maximize shareholder value.