What Will Barrick Gold's Focus on Its 4 Priorities Achieve?
Barrick Gold (ABX) wants to achieve positive free cash flow even at a gold price of $1,000 per ounce.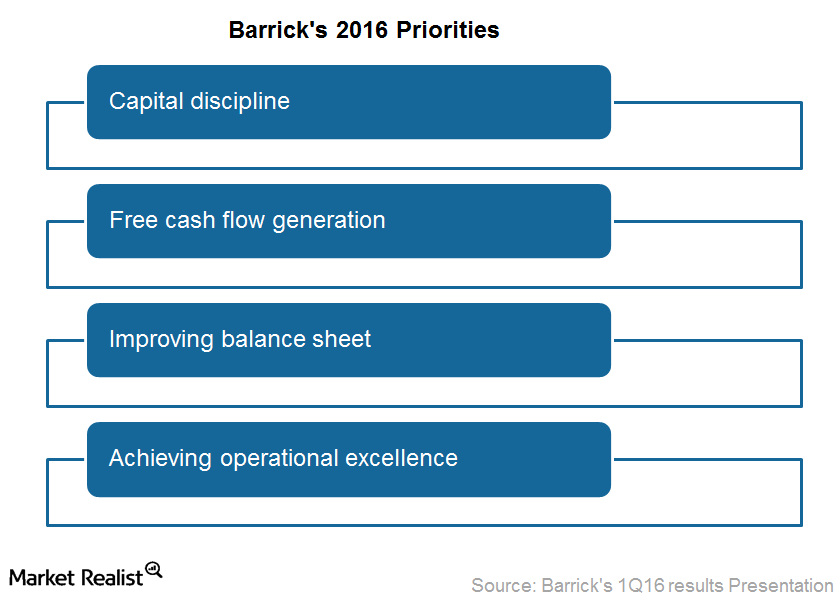 Emphasizing capital discipline
Barrick Gold (ABX) highlighted four priorities that it will focus on during 2016 to add value to its business and drive shareholder returns. Barrick Gold strives to focus on progressing only those spending plans that add value for shareholders. To achieve this, the company is emphasizing capital discipline. Through commercial, technical, and peer reviews, the company will strive to present to the investment committee only those projects that show potential to add significant value. Going forward in 2016, Barrick will rigorously follow this plan to identify additional saving opportunities.
Article continues below advertisement
Article continues below advertisement
Growing FCF per share
As we've already discussed in this series, generating FCF (free cash flow) is high on the company's list of priorities. It wants to achieve positive FCF even at a gold price of $1,000 per ounce.
Improving balance sheet
Barrick Gold completed some acquisitions at the peak of the cycle in 2011, and these were eventually written off. This increased its debt load. Investors became very wary of companies with high financial leverage in a declining and volatile gold price scenario. While Barrick Gold's management has started focusing on debt reduction and achieved its target of $3 billion debt reduction in 2015, it is committed to reducing its debt by another $2 billion in 2016.
Achieving operational excellence
Barrick Gold's fourth priority for 2016 is to lower costs at its mines, which already have some of the lowest costs in the industry. It has a goal of driving the all-in sustaining costs to below $700 per ounce by 2019 through Best-in-Class, its productivity improvement initiative.
Barrick Gold's peers (GDX) (GDXJ) Newmont Mining (NEM), Goldcorp (GG), Kinross Gold (KGC), and Yamana Gold (AUY) are also driving operational improvements to add value for shareholders.
In the next article in this series, we'll look at analysts' recommendations for Barrick Gold's stock.