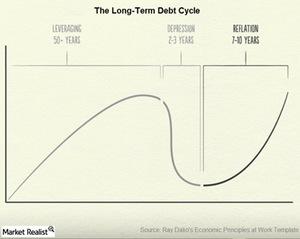 Where Are We in the Long-Term Debt Cycle? Ray Dalio Weighs In
By Surbhi Jain

Updated
Ray Dalio: The Fed needs to study the long-term debt cycle
According to Ray Dalio, the Fed needs to study the long-term debt cycle in order to understand the huge downside risks that currently face the US economy (SPY)(IWM)(QQQ) in light of the Fed's difficulty with monetary policy.
In his economic template "How the Economic Machine Works in 30 Minutes," Dalio explains the long-term debt cycle in a very simple way.
Article continues below advertisement
The three phases of the long-term debt cycle
According to Dalio, the long-term debt cycle has three phases.
1. Leveraging
This phase takes about 50 years. The economy sees debt and incomes rising. Asset values soar, as we saw real estate prices soaring during the housing bubble, and people continue to borrow and invest in these inflated assets, believing they will rise further.
2. Depression
This phase lasts about two to three years. The economy's total debt burden becomes unsustainable, leading to a crash. This crash usually occurs when the rise in debt repayment outpaces the rise in income, forcing a cutback on spending. We see
stock markets crash
asset prices drop
credit disappears
banks are squeezed
incomes fall
people cut spending
social tensions rise
3. Reflation
This phase lasts about seven to ten years. The US (VFINX) has been leveraging since the Great Crash of 1929. Then the economy fell into a depression from 2007 to 2009, and the economy has been trying to reflate since then. The problem?
In a recession, the economy can be revived by lowering interest rates. This means debt (BND) would rise.
However, in deleveraging, interest rates are already at (or near) zero, and the economy's debt is already huge. So the economy looks to deleverage rather than generate more debt.
Which phase is the US economy currently in?
The US economy is currently, as Ray Dalio confirms in his talk with Marketplace Morning Report host David Brancaccio, "a little bit past the midpoint of that business cycle, at the end of a long-term debt cycle."