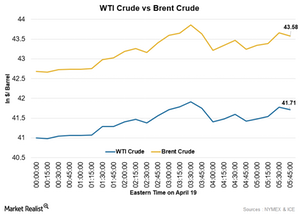 Why Did Oil Prices Rise This Morning?
Oil trades higher
Oil prices rose early today because of the oil workers' strike in Kuwait. At 4:55 EST, crude futures for June delivery were trading at $41.47 per barrel, a gain of 0.68%. Brent crude for June delivery was trading at $43.24 per barrel, a gain of 0.77%.
Article continues below advertisement
Kuwait strike takes eyes off output freeze deal
The oil workers' strike in Kuwait started on Sunday and resulted in a decline of more than 50% in the country's oil production to 1 million barrels per day. You should also note that Kuwait's average daily oil output in March was 2.7 million barrels. On Monday, crude oil prices fell almost 7% as the output freeze deal didn't materialize in the producers' meeting in Doha on Sunday.
Even though the oil market started lower yesterday, it rebounded, finding support in the strike. The same sentiment carried over to today's early hours and supported oil prices by shifting the focus from the supply glut and failure to materialize the output freeze deal on Sunday. Many analysts believe the present positive move is short-lived and that the focus will soon shift back to the supply glut and negatively impact prices.
Asian markets supported by oil
The spike in oil prices also supported Asian markets on Tuesday. Japan's Nikkei index rose 3.7% today, taking support from the spike in oil prices. You should note that the Nikkei fell more than 3% on Monday because of the earthquake in southwestern Japan. This sentiment could lift oil producers' prices, like QEP Resources (QEP), WPX Energy (WPX), Carrizo Oil & Gas (CRZO), and Exxon Mobil Corporation (XOM), as well as the Pro Shares Ultra Bloomberg Crude oil ETF (UCO) and the SPDR S&P Oil and Gas Exploration and Production ETF (XOP).
The next article in this series discusses copper, gold, and silver performance this morning. Read on to learn more.