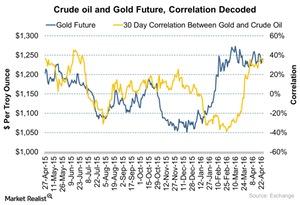 Gold and Crude Oil: How Does the Correlation Work?
Correlation between gold and crude oil
Gold (GLD) can be considered an indicator of economic fear and inflation expectations. Driven by these fears, gold gains during equity market turmoil. However, the fall in commodity prices over the last few months and the downturn in crude oil (USO) contributed to the fall in the S&P 500 index (SPY)(IVV). Gold rallied around 21% between December 17, 2015, and March 10, 2016. During the same period, the correlation between crude oil and gold fell to -39%—the lowest in the past year. The correlation was negative because equities move lower with the fall in crude oil prices. Gold rallied due to increasing fear in the global markets.
Article continues below advertisement
Why the correlation isn't simple
Gold and crude oil correlate in a more complex manner. Gold is a safe-haven asset. Crude oil is a risk asset. Gold mainly derives its price cues from broad market sentiments and inflation expectations. Crude oil mainly derives its value from the demand and supply equation. However, both are broadly driven by expectations of long-term economic growth. So, these two assets could show a significant correlation. However, that doesn't necessarily mean that both of the assets are impacting each other. It could be the result of other variables that may be common to both of them.