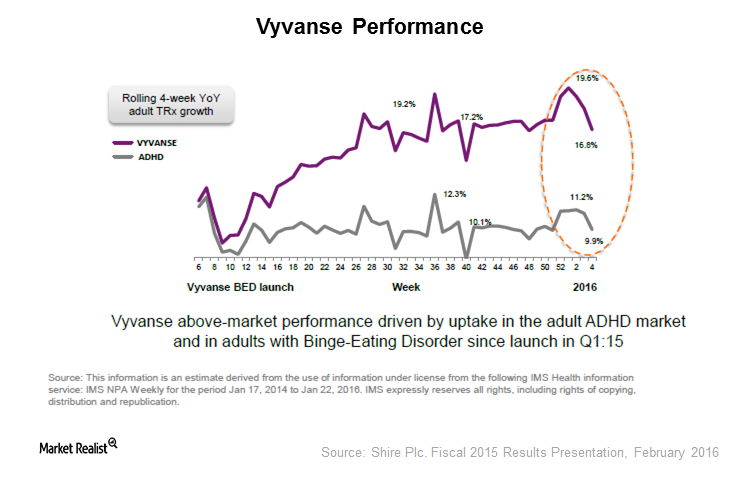 What's Happening with a Generic Version of Vyvanse?
Vyvanse's revenue projections in 2016 and 2017
Vyvanse, Shire's (SHPG) key drug, is indicated for ADHD (attention-deficit/hyperactivity disorder) and moderate to severe BED (binge eating disorder) in adults.
The drug earned $1.7 billion in fiscal 2015, a 21% annual growth on a constant currency basis. Wall Street analysts expect the drug to further add $1.9 billion and $2.1 billion to Shire's top line in fiscal 2016 and 2017, respectively.
Article continues below advertisement
Article continues below advertisement
Rising prescriptions of Vyvanse
In the fourth week of January 2016, Vyvanse prescriptions increased 16.8% on a weekly basis. Overall prescription growth for the adult ADHD market was 9.9% that week. Vyvanse has consistently outpaced the industry in terms of prescription volume growth.
In fiscal 2015, Vyvanse prescriptions increased 8%. Overall, prescriptions for adult ADHD in the United States increased 6% in 2015. To further increase prescriptions of Vyvanse, Shire is following a label expansion strategy.
Is a generic version of Vyvanse on the way?
The following companies have submitted ANDAs (Abbreviated New Drug Applications) with the FDA (U.S. Food and Drug Administration) for a generic version of Vyvanse:
Amneal Pharmaceuticals
Roxane Laboratories
Sandoz, a subsidiary of Novartis (NVS)
Mylan Pharmaceuticals, a subsidiary of Mylan (MYL)
Actavis, which is now Allergan (AGN)
However, the FDA denied all the ANDAs and determined that Shire's patent for Vyvanse is valid until 2023. Until the patent expires, a generic version of the drug can't be launched.
To get exposure to Shire and at the same time control excessive company-specific risks, investors can choose to invest in the VanEck Vectors Pharmaceutical ETF (PPH). Shire accounts for 5.0% of the fund's total holdings.
Next, let's take a look at Shire's major valuation drivers for fiscal 2016.