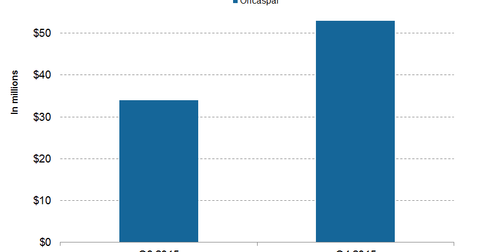 What Does the Future Hold for Oncaspar?
By Jillian Dabney

May. 12 2016, Updated 5:04 a.m. ET
Baxalta's oncology drugs
Baxalta's (BXLT) oncology portfolio came into existence in 2015 after the company's acquisition of Oncaspar. During fiscal 2015, the drug recorded revenues of $73 million in the United States and $14 million from non-US sales.
The drug "is a first-line biologic used as part of a multi-agent chemotherapy regimen to treat acute lymphoblastic leukemia."
Baxalta expects that Oncaspar could earn ~$1.9 billion in sales by 2020. Furthermore, Baxalta's pipeline holds the potential to fetch higher revenues by fiscal 2025. Baxalta markets Oncaspar in 28 member countries of the European Union, as well as Iceland, Liechtenstein, and Norway.
Article continues below advertisement
What is acute lymphoblastic leukemia?
According to the National Cancer Institute at the National Institutes of Health, acute lymphoblastic leukemia "is a type of cancer in which the bone marrow makes too many lymphocytes (a type of white blood cell)." In fiscal 2016, estimated new cases of the disease could reach 6,590 in the United States. Drugs used to treat the disorder include Oncovin, Pfizer's (PFE) Cytosar, Bristol-Myers Squibb's (BMY) Vumon, and GlaxoSmithKline's (GSK) Arranon.
To gain exposure to equity while avoiding excessive risk, investors could consider ETFs such as the iShares S&P 500 Growth ETF (IVW), which holds 0.18% in Baxalta's equity. In the next part of this series, we'll discuss analyst recommendations for Baxalta and its peers.