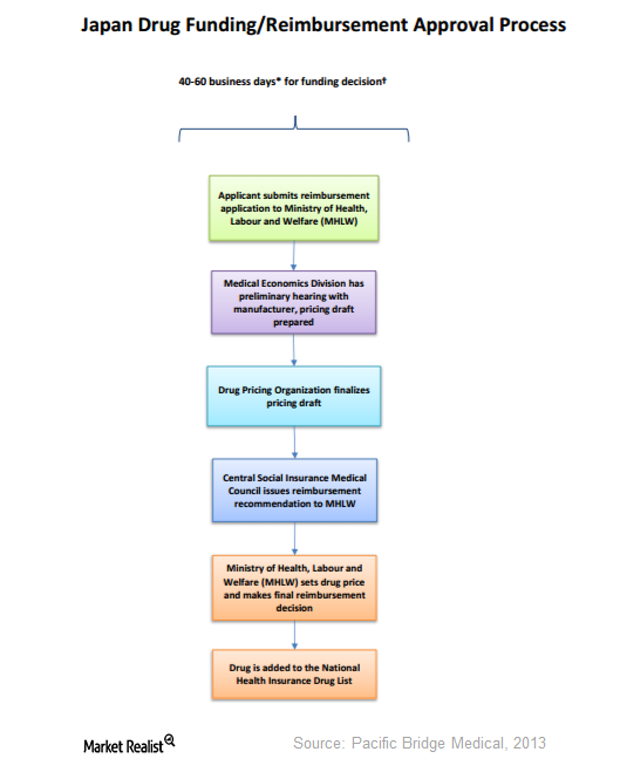 How Are Drugs Priced in Japan?
By Jillian Dabney

Apr. 19 2016, Updated 9:08 a.m. ET
Reimbursement process
Once a product is approved, the drug applicant submits a reimbursement application to the MHLW (Ministry of Health, Labour and Welfare). The Medical Economics Division of the MHLW prepares a pricing draft after the preliminary hearing with the manufacturer. Once the pricing draft is finalized, reimbursement recommendation is provided to MHLW. MHLW sets the drug price and makes a final decision after which the drug gets added to the National Health Insurance (or NHI) drug list.
Once a drug is listed, it is published quarterly in the Official Gazette. Thus, the Japanese pharmaceutical market is a highly regulated one.
Article continues below advertisement
How are the prices fixed?
Following universal insurance coverage, every resident participates in the National Health Insurance (or NHI) plan. To curb increasing healthcare expenditure, the country implemented a biennial drug price revision process.
Under this program, the NHI revises drug prices every two years. The next drug price revision will take place this month. During fiscal 2016, a 6.8% reduction in drug prices is expected.
The above chart depicts the distribution and reimbursement system in Japan. The difference between manufacturers' shipping price and wholesalers' purchase price is the sales margin for the manufacturer. The difference between the hospitals' purchase price and the reimbursement price is the margin, which is called the "R-zone," where "R" stands for "reasonable."
The leading global pharmaceutical companies in the country include Teva Pharmaceutical (TEVA), Takeda Pharmaceutical (TKPYY), Astellas Pharma NPV (ALPMY), Daiichi Sankyo, and Ono Pharmaceutical. To get diversified exposure to Japanese equities, you can consider the iShares JPX-Nikkei 400 ETF (JPXN), which invests ~70% of its holdings in Japanese equities. The Vanguard FTSE All-World ex-U.S. ETF (VEU) holds European equities such as Roche Holding (RHHBY) along with Japanese equities.