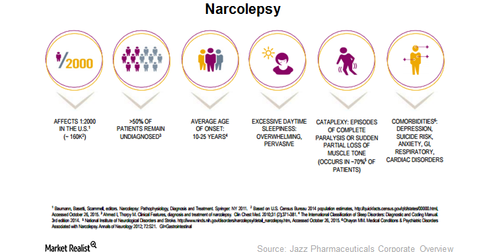 Can Xyrem Maintain Leadership in the Narcolepsy Space?
By Jillian Dabney

Updated
How could Xyrem be a growth driver for Jazz?
Jazz Pharmaceuticals' (JAZZ) Xyrem is a drug for cataplexy and excessive daytime sleepiness occurring in patients with narcolepsy, a serious orphan disease.[1. a condition that affects fewer than 200,000 people nationwide]
The disease affected ~160,000 people in the United States in fiscal 2015. However, less than 50% of these people remain definitively diagnosed with the disease. To fuel growth in the sales of the drug, the company has launched some initiatives such as outreach to prescribers treating narcolepsy, education for physicians and healthcare providers, enhanced patient and physician support services, and unbranded disease awareness programs for the public.
Article continues below advertisement
Distribution of Xyrem
Outside the United States, UCB holds the exclusive marketing rights for Xyrem in 54 countries for the treatment of narcolepsy. Currently, the company is selling the drug in 18 countries. In Canada, Valeant Pharmaceuticals (VRX) has the marketing rights for Xyrem for the treatment of narcolepsy.
As an effort to expand the label for the drug, Jazz is conducting phase 3 clinical trials for cataplexy with narcolepsy in children and adolescents aged seven to 17. Enrollment for the trial is expected to finish by the second half of fiscal 2016.
Other FDA-approved drugs for excessive daytime sleepiness in patients suffering from narcolepsy include Provigil and Nuvigil. These drugs are distributed by Teva Pharmaceuticals (TEVA).
Is a generic version of Xyrem on its way?
Seven companies have filed abbreviated new drug applications with the FDA for launching a generic version of the drug. These companies include Amneal Pharmaceuticals, Par Pharmaceutical, Roxane Laboratories, Ranbaxy Laboratories, Wockhardt Bio, and Lupin. Jazz has filed a lawsuit against these companies for patent infringement.
Following other generic version launches, sales of the original drugs have fallen. Sanofi's (SNY) Lovenox experienced a fall in sales following a generic launch. Major companies such as Pfizer (PFE) and AstraZeneca (AZN) have also faced troubles with the generic version availability.
To get exposure to Jazz Pharmaceuticals and control excessive company-specific risks, investors could invest in the iShares Russell 1000 Growth ETF (IWF). Jazz accounts for 0.09% of the fund's total holdings.