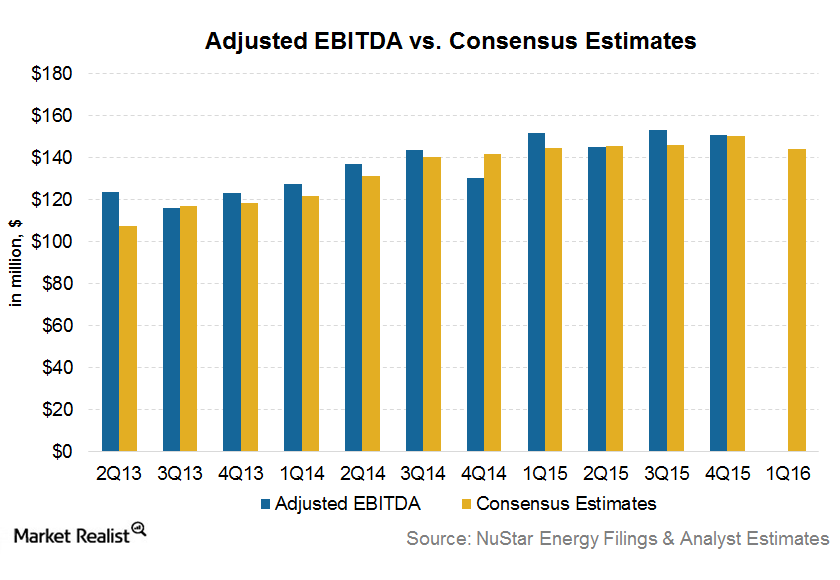 Analyzing NuStar Energy's 1Q16 EBITDA Estimates
<p>NuStar Energy is expected to release its 1Q16 earnings on April 27. Wall Street analysts' 1Q16 consensus EBITDA estimate for NuStar Energy is $144.3 million.</p>
NuStar Energy's 1Q16 EBITDA estimates
NuStar Energy (NS) is expected to release its 1Q16 earnings on April 27, 2016. In this series, we'll discuss its estimates for 1Q16, each of its segments' contribution to earnings, its market performance, and analysts' recommendations. Let's start with analysts' earnings estimates.
Wall Street analysts' 1Q16 consensus EBITDA (earnings before interest, tax, depreciation, and amortization) estimate for NuStar Energy is $144.3 million. Its 1Q16 estimate is 4.9% and 4.3% less than its 1Q15 and 4Q15 adjusted EBITDA.
According to estimates, NuStar Energy's peers Buckeye Partners (BPL), NGL Energy Partners (NGL), and Rose Rock Midstream Partners (RRMS) are expected to post year-over-year EBITDA growth of 19.0%, 17.0%, and 29.0%, respectively, in 1Q16—compared to 1Q15.
Article continues below advertisement
Article continues below advertisement
NuStar Energy's 1Q16 EBITDA drivers
The expected YoY decline in NuStar Energy's 1Q16 earnings could be driven by the following factors.
Its Fuel Marketing segment is exposed to crude oil prices. The average US crude oil price by the end of 1Q16 was ~$33.6 per barrel—compared to ~$48.6 per barrel during 1Q15.
A decline in Eagle Ford production could impact NuStar Energy's crude oil throughput volumes. We'll discuss this more in the next part.
These negatives are expected to be offset by:
increased loading capacity at the Corpus Christi North Beach Terminal
higher storage lease revenues
NuStar Energy's adjusted EBITDA versus consensus estimates
NuStar Energy's 4Q15 EBITDA estimate was ~$150.4 million. The adjusted EBITDA was ~$150.7 million—a marginal beat of 0.2%. We have to wait for its 1Q16 earnings release to see whether NuStar Energy beats or misses its 1Q16 earnings per share estimates. We'll cover this in our post-earnings series after NuStar Energy reports its 1Q16 results. NuStar Energy forms 4.6% of the Global X MLP ETF (MLPA).