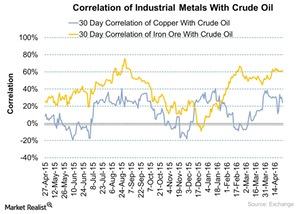 Analyzing the Correlation of Crude Oil and Industrial Metals
Correlation analysis of crude oil and industrial metals 
In the past year, US crude oil was more correlated with iron ore compared to copper (JJC). The higher correlation might be attributed to the extensive use of iron ore in a crude oil–driven industry like transport compared to copper. During August 2015, the correlation between crude oil and iron ore touched 75.5%. The period witnessed China's (FXI) economic turmoil and the devaluation of the yuan. Copper's correlation with crude oil also spiked during August 2015. However, the degree of the correlation was lower compared to iron ore. So, the rise in the 30-day correlation in August 2015 could be attributed to China's turmoil instead of the interaction of iron ore and copper with crude oil.
Article continues below advertisement
Since February 2016, when the recovery in crude oil started, iron ore's correlation with crude oil spiked. However, industrial metals started to recover in January 2016 ahead of the crude oil recovery in February 2016. The recovery in industrial metals could be seen as an economic sentiment indicator. It could drive crude oil prices. Copper and iron ore are used extensively as industrial metals. If the prices soar, it shows an improving macroeconomic outlook. This could drive crude oil higher.
Upstream stocks